Habitat House takes another step closer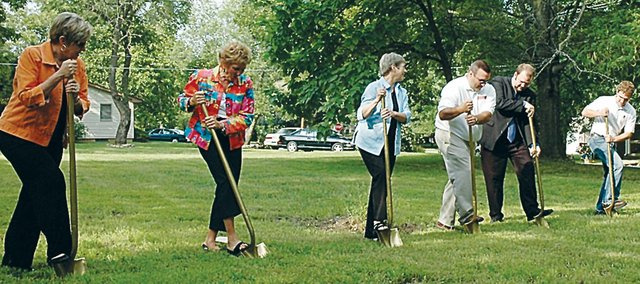 The kickoff for the Habitat for Humanity build in Baldwin City took place Sunday.
The lot dedication took place on Sunday for the Habitat lot at the corner of 11th and Fremont streets.
More than 50 people from the community and Baker students and staff gathered at the location to acknowledge the gift of the lot from Bootsie and Monte Lauridsen, who have been involved with Habitat builds for more than 16 years. Ruth Sarna, director of student health services at Baker, acted as emcee for the event.
"Excitement ran high for the start of this project," said Sarna.
Pat Long, Baker University president, addressed the crowd to thank the Lauridsens for the lot and to acknowledge the support of the university for the project. Jeff Dingman, Baldwin City administrator, added his words of approval.
Jeremy Hahn, executive director of Habitat, thanked the Lauridsens for the gift. The Rev. Ira DeSpain, university minister, gave the blessing for the lot. The family selection committee of Habitat is close to a selection of a family, with the hope to pour a foundation in October.
Sarna serves as the committee chair/coordinator of the project that started in 2007 with the students wanting to have a project for Baker's 150th anniversary celebration.
"They have been working on this for the past year," said Sarna. "Funds are still needed and we welcome any gifts."
Turning the ground for the groundbreaking were Hahn, Long, Sarna, Chad O'Bryhim, (Baker student senate president), Dingman and Bootsie Lauridsen.
The committee members for the Baldwin City/Baker build include Jay and Jodie Randels, Doug Barth, Connie Neuenswander, Edrie and Bob Swanson and Bob and Ruth Sarna.
Refreshments were provided by Mr. Goodcents - Chip and Jan Hornberger - and the Baker University Food Service.
Contact Habitat at (785) 832-0777 or Sarna at 594-8409 to offer gifts, materials or labor.