Cancer benefit train is Saturday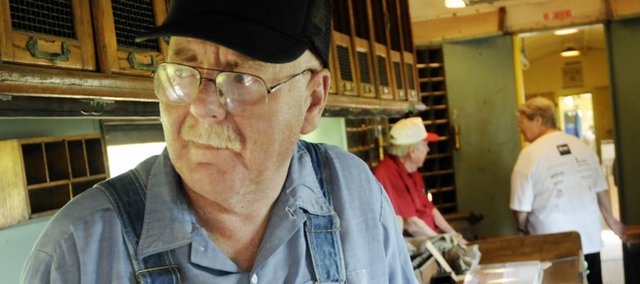 In recognition of childhood cancer, the Cunningham family of Baldwin City has teamed up with Midland Railway to offer a special train ride via the railway's historic passenger train. The funds raised at the event will benefit local pediatric cancer treatment at Children's Mercy Hospitals and Clinics.
The special event, which is open to the public, will be at 6 p.m. on Saturday. This day will also be the first National Childhood Cancer Awareness Day.
The U.S. Senate passed a resolution in May 2008 that will recognize Sept. 13 as Childhood Cancer Awareness Day. The measure, sponsored by Senators Wayne Allard (R-CO) and Hillary Rodham Clinton (D-NY), was passed by unanimous consent. It sets aside Sept. 13 of each year to call attention to this urgent national health issue. September is also Childhood Cancer Awareness Month.
"Never before in history has the dream of eliminating childhood cancer been so attainable, yet seemed so elusive," Senator Allard said. "We live in a nation where the effectiveness of treatments and technology offer hope to children who dream of a bright future. Each case of childhood cancer is a very personal tragedy that can strike any family with children, at any time, anywhere. In setting aside Sept. 13 to recognize this battle on cancer, we continue our efforts to draw attention to the victims of childhood cancer and the great work of the families and organizations who continue the fight."
The Midland Railway benefit train will travel through scenic Douglas and Franklin counties for approximately 1 hour. Passengers will get a gold ribbon, the official color recognizing childhood cancer. At Norwood, the train's midway stop, passengers will depart for a brief ceremony honoring children affected by childhood cancer.
Judi O'Grady of Eudora, whose daughter Brooke died from Hodgkin's Lymphoma, will briefly speak about her child's experience with cancer. A release of 150 gold balloons will follow. Names of regional children affected by childhood cancer will be read prior to the balloon release.
A minimum donation of $5 will purchase the fare aboard the "Cure Train Express." Proceeds will be donated to Children's Mercy Hospital Hematology/Oncology Department.
The Cunningham family is actively involved in childhood cancer awareness efforts. Three-year-old Lane battled cancer for 16 months and will celebrate his 1-year remission from neuroblastoma, a rare form of pediatric cancer, this September. Lane received the majority of his treatment at Children's Mercy Hospital. Kara Cunningham, mother, is a volunteer board member representing Douglas County on the hospital's Regional Council.
"We are so very thankful for Lane's recovery from cancer. Children's Mercy helped save our son's life. We wanted to do something to give back to the hospital as well as raise awareness for childhood cancer. Our hope is that the train ride will do just that," Kara Cunningham said.
Childhood cancer is the leading cause of death by disease in children. Every school day, 46 young people, or two classrooms of students, are diagnosed with cancer in this country. More than 12,500 children are diagnosed with cancer annually in the United States. Children's Mercy Hospital treats more than 150 new cases of childhood cancer each year.
To reserve tickets contact Kara Cunningham at 785-893-1108 or kara.cunningham@ottawa.edu.