Bulldogs beat Panthers 21-7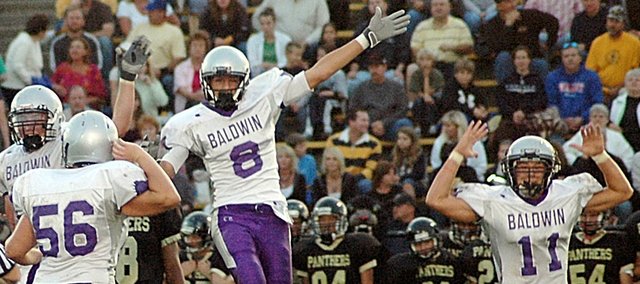 Paola — For the first time since 2005, the Baldwin High School football team has won its opening game of the season.
Led by senior Sam Beecher, the Bulldogs beat the Panthers 21-7 here Friday night. Beecher rushed for two touchdowns and threw for the other score.
"It feels great to get this win," Beecher said. "This is my third year playing varsity and the first two years, we've lost our first game. It's really hard to come off of that. It really gets the players down when you lose the first game, so this win will help our confidence."
A year ago, Baldwin lost its opener to Gardner-Edgerton 14-7. In 2006, the Trailblazers stomped Baldwin 36-19. However, the Bulldogs won Friday on the road to begin the season 1-0.
"We haven't won the first game in two years," coach Mike Berg said. "This was great. It was our goal. We did something the past two teams haven't been able to do and that's to open the season with a win."
After the victory, the BHS players were excited to win the first game, which for most of them was the first since 2005.
"This is a great feeling," senior Logan Schiller said. "The past two years we've lost the first game, so this is a big relief for us."
Beecher was the Bulldogs' primary offensive threat and he is the leading rusher from a year ago. On Friday, he carried the ball 20 times for 100 yards and completed four of seven passes for 40 yards.
"I really like it, because it feels like gym class," Beecher said. "I'm just scrambling around and trying to make a play for our team. Our receivers helped me a lot by getting open, too."
Beecher's first touchdown came on Baldwin's first possession. He carried the ball six times and completed two passes during the 16-play, 71-yard drive. He hooked up with seniors Andy Thurlow and Brandom Tommer on the drive.
He capped off the nearly nine-minute drive with a 2-yard touchdown run to give BHS a 6-0 lead.
"I thought we played really well," Beecher said. "They came out and were flying around on defense and they hit really hard. Our offense fired right back at them pretty hard. Then our defense stepped up and started getting stops after they scored once."
Paola's quarterback fumbled the ball on the Panther's first offensive play after the touchdown. Sophomore Landon Ausherman recovered the fumble for Baldwin at the Paola 39-yard line.
It only took the Bulldogs five plays to find the end zone again. This time it was Beecher scrambling around and finding senior Jared McCall wide open for the 10-yard touchdown.
"It was really cool, because Jared and I have been working together in 7-on-7 and in practice," Beecher said. "It's cool to throw a touchdown to him."
Paola had an answer for Baldwin's 12-0 lead. It was a 6:38 drive that took 17 plays, including two fourth-down conversions. The Panther touchdown closed the lead to 12-7 before the half.
Unhappy with the final defensive possession before halftime, Berg challenged his players in the locker room.
"Our kids rose to the occasion tonight," Berg said. "Our kids were like every team in the state - tired tonight. At halftime, I told them it's gut-check time and asked them how bad did they want the win. They showed us how bad they wanted it, because they came out and played a great half."
Schiller said Berg's halftime speech inspired the Bulldogs to play better in the second half.
"I think we played pretty well all around," Schiller said. "In the second half, we stepped up and shut them out. We played well as a team and got our jitters out in the first half."
The Bulldogs' offense sputtered in the second half, but its defense stuffed the Panthers and won the turnover battle, 4-0. Baldwin recovered a trio of second half fumbles and Tommer laid out for an interception deep in Panthers' territory.
"That was a big play," Berg said. "Tommer is a big-play guy and he made that big interception."
Baldwin scored its third touchdown of the game five plays after Tommer's play. Beecher tucked behind his offensive line for a 1-yard run. However, for the second straight time, his two-point conversion failed. Schiller's kick sailed wide left after the opening score.
Senior Ethan Hebenstriet was proud of his fellow linemen for playing tough during the touchdown drive.
"They weren't too big, but they were fast," Hebenstriet said. "They were really quick. We just kept our feet going and the boys found that extra gear to get the job done."
Baldwin's final score came after another Paola fumble. Schiller booted a 34-yard field goal that sailed through the uprights to give BHS a 21-7 lead.
"I knew I could make it, because I was doing really well in pregame," Schiller said. "I have to admit that I was a little nervous, because I missed that extra point earlier. It felt good to redeem myself."
After the game, Berg said turnovers were a major factor in the victory, but he said the Bulldogs have to eliminate some penalties if they want to keep winning.
"We didn't put the ball on the ground tonight and that's what we needed to avoid," Berg said. "I told the kids before the game that turnovers and penalties are the things we need to eliminate. We had some crucial penalties, but our defense got the ball back for us time and time again. We just have to capitalize on those now."
Baldwin will travel to play Gardner-Edgerton at 7 p.m. Friday.
Scoring Summary
B - Sam Beecher 2 run, Logan Schiller kick wide right, 6-0
B -Jared McCall 10 reception from Beecher, Beecher attempt no good, 12-0
P - Daniel Mawby 2 run, Jonathan Pomatto kick good, 12-7
B - Beecher 1 run, Beecher attempt no good
B - Logan Schiller 34 field goal
B - 0 12 0 9 - 21
P - 0 7 0 0 - 7