Bond issue outcomes draw discussion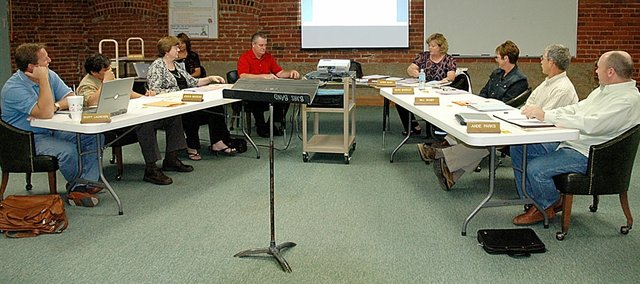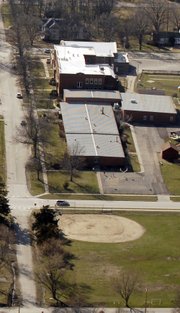 So what happens if the 2008 Baldwin School District bond issue doesn't pass in the November election?
It's not a topic the school board wanted to talk about a few months ago, but Supt. Paul Dorathy forced the issue at Monday's meeting. He knows it's a topic that has to be discussed because of the major ramifications to the district's Capital Outlay budget.
"We really need to nail down a statement about the bond issue and some issues if the bond doesn't pass," Dorathy said. "The main thing is if this thing were to fail, what are our next options?"
Board Member Scott Lauridsen originally brought up the idea earlier in the meeting. He said the board should create a "plan B" in case the patrons vote down the bond issue.
Lauridsen wasn't all about the negative, though. He also said the board needed to figure out what it would do with the Baldwin Elementary School Primary Center and District Office land if the bond does pass.
"Those are two things that I think we have to get a board-level view on so we have the same answer going out to the public," Lauridsen said.
Those two items became the topics of discussion for the meeting Monday. No answer was set in stone with either topic, but the board did discuss both items in lengthy detail.
The majority of talk focused on the consequences of the bond issue vote failing. That would result in a restructuring of the district's Capital Outlay plan and possibly another bond issue at a smaller price.
"If it doesn't pass, we would have to cut the cost down," Board President Alison Bauer said. "I don't know how you all feel, but academic achievement has to take priority over everything else. That would include the new building and the junior high renovations, which means we would have to take off the auditorium, track and ball fields. I hate to do that but we have to."
While he knows another bond issue could be possible later in 2008(?) or 2009, Dorathy knows some maintenance issues will have to be fixed if the November vote goes against the district.
"If the bond were to fail, I think last night the board made clear that, one, they would have to come back again with another bond issue," he said Tuesday. "I don't know when that might be, but I do believe they would be back with another bond issue, because the needs won't go away. The other thing is there are some needs that need to be dealt with immediately."
Several ideas and possibilities came up at the meeting about what projects would be pushed aside if the bond fails. On Tuesday, Dorathy outlined some of those. He said the new roof and heating/air conditioning units for Baldwin Junior High School would be a top priority. Both are items on the bond issue.
Dorathy also said major improvements would be in store for the Baldwin Elementary School Primary Center. The 50-year-old building has air quality issues, along with old windows, electrical problems and shortage of classroom space.
"If the bond doesn't pass, we will have to use some Capital Outlay money to address some of those issues," Dorathy said. "If that money is used to fix the junior high or primary center, then we would have to defer some of our technology plan, bus purchases, locker replacements and parking lot plans. All of those things would have to go on hold so that we could fix the most important things, which are roofs and air quality issues. Those would be dealt with first."
Board Member Ande Parks agreed with Dorathy, saying the public should be aware of the consequences to the district and its facilities if the November bond is rejected.
"It's something for us to easily look past, because we are so focused on making this thing happen, but people do want to know what the consequences are," Parks said. "It's important that we talk about that in open session and make it clear to everyone that there are real ramifications. It's not just that we don't get our dream list of stuff we wanted. We only have a set number of dollars and those will have to be diverted into fixing up our old buildings, when we could be, as a community, investing our money in a new building and using our Capital Outlay money like we want to."
Parks also wanted to address another consequence rumor Monday night.
"People were worried that when they saw we were wanting to build a new primary center that we might be pulling the country kids into town," Parks said. "It's quite the opposite. We're building this facility in Baldwin to house our in-town kids and all of our pre-K students. We're not going to have room to house either of the rural schools. This is more of a commitment to those schools."
Marion Springs Elementary School would lose its two 4-year-old classes if the new building were constructed. However, Parks said that would eliminate space issues at MSES.
"It's not a loss for Marion Springs," he said. "It's a bonus for them, because they don't have to use their mobile classrooms for art and music anymore. They can have that classroom space back."
The other topic for the night dealt with BESPC and its land if the bond were to pass. Dorathy and Bauer have both been asked questions by patrons about the lot and what would happen to it.
"If the bond issue were to pass, we would still use the district office and the old gym for a number of years," Dorathy said. "That would stay the same until the need arose for the second phase of the facilities' plan. There is no timeline for that project, so we would continue to use these facilities for a number of years. But, the board said the primary center and the property around it would be put on the market."
If the land were put up for sale, Dorathy said the district has laws it has to follow.
"By law, we are required to sell that to the highest bidder at fair market value," Dorathy said. "The school district can't just go out and make a deal with someone. The district has to sell property to the highest bidder. That property would be put up on the market if the bond passes."
He said Baker University has shown interest in the property, but no formal discussion has taken place.
"I know there is interest there and why wouldn't they be interested?" Dorathy said. "It's close to their property. Other than that, there have been no discussions."
The board will continue discussing the bond issue and what might happen with either outcome at its October meeting. However, Dorathy wanted voters to be aware of the consequences if it fails.
"We'll have to tackle priorities," Dorathy said. "That's what will happen. We'll have to take out the priorities that are most important and deal with those that are within the budget that we've got."