Jury finds Ramona Morgan guilty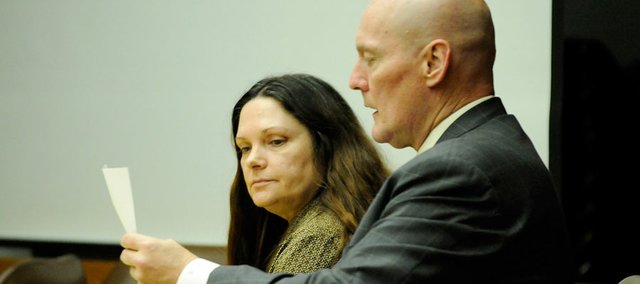 Two Kansas families had their sons ripped from their lives in an instant on Sept. 11, 2007, in Douglas County.
One year later, they received justice and some peace.
The families of Ty Korte, 30, and Rolland Griffith, 24, celebrated Tuesday after a Douglas County jury handed down two guilty verdicts of reckless second-degree murder. The jury convicted Ramona Morgan of striking the two construction workers with her pickup truck and killing them on U.S. Highway 59 near Pleasant Grove.
"We got justice," said Korte's father, Tom, of Seneca. "We haven't got Ty, but we've got our justice as much as we can get, and we're very happy for that."
"She took him, and she's going to pay for it," said Melissa M. Griffith, Rolland Griffith's widow.
The jury of eight men and four women deliberated for about nine hours before reaching three guilty verdicts, including one for aggravated battery and injuring a third worker, Curtis Delzell, of El Dorado.
Jurors asked District Judge Paula Martin several questions during deliberations, and on Tuesday morning they listened to a court reporter read back Morgan's earlier testimony. They also viewed a video interview of Morgan conducted by television reporters as she walked into Osage County's courthouse for a first appearance.
The length of the deliberations and the questions made prosecutors and family members nervous because jurors had options to convict her of lesser charges: involuntary manslaughter or vehicular homicide, a misdemeanor.
Jurors declined to comment after the trial, but prosecutors Eve Kemple and David Melton, spoke with some of them.
"It seemed like they all worked very hard and went over every piece of evidence very carefully and thoroughly," said Kemple, an assistant Douglas County district attorney. "That's all that we could ask them to do."
The case
The key to the conviction on the most severe charge was that jurors believed prosecutors proved that Morgan's actions were not intentional, but were far beyond reckless. Kansas Highway Patrol troopers had testified that Morgan accelerated up to 51 mph when she struck the two men.
Witnesses also testified that Morgan drove through the 2-mile work zone twice that morning, missing some workers while driving north and then making the fatal strikes while headed south.
"Just the fact that she did that in the way she did is what convinced them that she showed an extreme indifference to the value of human life," said Melton, a chief assistant Douglas County district attorney.
Kemple and Melton said the jurors focused on Ramona Morgan's statements. Many of them appeared to make up their minds when they heard a reading of her testimony, prosecutors said.
Morgan, who is 49 and from Chewelah, Wash., had traveled to central Missouri with her daughter, Sabrina Morgan, 27, to try to buy rural property on Sept. 10, 2007. But she was not satisfied with the property, and Morgan said that as she tried to drive back to Washington a gang of robbers was harassing her on the highways. She even alleged they shot at her vehicle and that police in Missouri would not help her.
Morgan said that when a construction worker started banging a stop sign on her truck she thought she was under attack again. Construction workers contended they were trying to get her to stop from driving through the zone a second time.
But Morgan said she hit the gas out of fear and continued south through the construction area. She contended that she struck orange barrels and not people.
Billy Rork, Morgan's defense attorney, had tried to convince jurors that Morgan could not see through her broken windshield, but Melton and Kemple said Morgan testified that she eventually stopped in Osage County, 25 miles later, because she recognized a law enforcement vehicle.
Morgan sat quietly when the verdicts were read. Sabrina Morgan sat in the audience and stared forward as sheriff's officers escorted her mother from the courtroom.
Rork said he would research and possibly ask Martin for a new trial based on some legal definitions in the jury's instructions. He said it was important for jurors to consider Morgan's "state of mind" during the incident. Otherwise, he said he would be interested to learn more about why jurors made their decision.
"That's their right. That's how they saw it," Rork said.
Lost loved ones
Korte, of Seneca, was on the construction scene that day as a Kansas Department of Transportation inspector. Griffith worked for Dustrol Inc. of El Dorado. His father, Mark Griffith Sr., also works for Dustrol, but he was not at the site that day.
"Justice was done. For the families. For the victims. For all the Dustrol workers. That's what this is about is justice," said Kemple, who had tried only one murder trial previously. "Nothing will ever bring back Ty Korte and Rolland Griffith, and the closest all these people who were dramatically affected are going to get to having peace is justice. That's the first step."
Martin is scheduled to sentence Morgan on Nov. 5. She faces a sentence of between nine and 41 years in prison on each of the second-degree murder convictions.
Her criminal history will affect her length of sentence. Morgan already has the Osage County felony conviction for eluding law enforcement after she struck the two highway workers. Kemple said Morgan also has other misdemeanor convictions in Washington state.
The victims' family members plan to return to Lawrence for the sentencing to advocate for their sons.
"They just don't know what they did to our family. He was just so special," Tom Korte said.
Rolland Griffith's mother, Kaylene, said, "I think what hurt the most was I didn't even get to hold him his last few minutes. Someday, we'll all be together, and that's what I'm waiting for now."
Rolland's wife, Melissa, was four months pregnant and lost the baby because of shock on the day she found out her husband had died.
After the trial on Tuesday, Melissa recalled telling her husband to be careful at work because he was accident prone.
But, what happened "was the farthest thing from my mind," she said.