BHS

boys win opening meet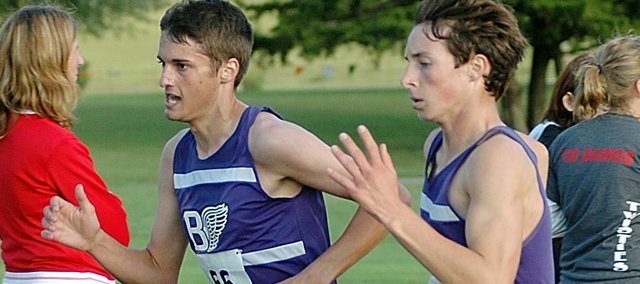 Garnett — It took no time for the Baldwin High School boys' cross country team to legitimize its No. 2 ranking in the Class 4A preseason poll.
Well, actually, it took around 19 minutes here Thursday afternoon.
The Bulldogs opened their season at the Anderson County Invitational and brought home a first-place team plaque. They scored 26 points to win the boys' varsity race, while De Soto (65) took second and Santa Fe Trail (78) finished in third.
Leading the way for the Bulldogs was sophomore Tony Weiss. He won the 5-kilometer race in a time of 17:24.55. Freshman Brian Wright finished runner-up, running 17:36. 70.
Sophomore Carson Barnes (5), senior Connor Wright (6) and freshman Tosh Mihesuah (12) rounded out the Bulldogs' top five runners. Senior Brad Canterbury (15) and junior Josh Hanson (25) were the other two BHS varsity runners.
The other three Baldwin teams finished second to De Soto. The varsity girls scored 40 points, but the Wildcats nearly swept the race, scoring 20. Senior Corinna Papps led Baldwin by finishing fourth.
Freshman Elizabeth Sigvaldson won the junior varsity girls' race. Freshman Abi Hartzell finished runner-up in the race and junior Misty Emery placed fourth. De Soto won the team title with 29 points, which just edged out Baldwin's 30 points.
In the junior varsity boys' race, senior Blake Randels placed third. BHS scored 54 team points, but the Wildcats scored 38 to win.
The Bulldogs will compete again Sept. 13 at the Wamego Invitational. There will be a full story and photos in the Sept. 11 issue of the Signal.