Sweet 16 with a twist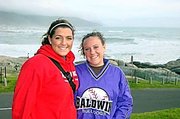 Like most teenage girls, Kaylin McCrary will always remember her 16th birthday.
However, there were no balloons, expensive dresses, television shows or even cake. Instead she spent her birthday with underprivileged children and a few special birthday cards.
"It was a very special 16th birthday," McCrary said. "I'll always remember it. It was our first day in the townships, so my 16th birthday was really intense. It just made me more grateful for every other birthday. It made me feel blessed."
She celebated her birthday about a month ago. She was halfway across the world for her sweet 16th.
Although McCrary's family didn't travel to Capetown, South Africa, with her, they were on her mind as she opened her birthday cards. One in particular, from her younger sister Madeline, broke her into tears.
"The Dog Days card was my favorite, because everybody from Dog Days signed it," McCrary said. "That one was really funny and I really liked it. The one from my mom was nice, but when I read the one from my sister, I bawled. Her singing card made me cry. I didn't cry any other time on the trip, but I started bawling when I opened her card."
Like the rest of her family, Madeline sent her older sister a card for her sweet 16th. Her selection was a musical card that played the song "You'll Be in My Heart," performed by Phil Collins and Glenn Close, from Disney's "Tarzan." It wasn't her intention to make her sister cry, but Madeline did miss her.
"When she was there, I knew she was going to miss us," M. McCrary said. "I didn't want to give such an emotional card, but I thought it might brighten up her day. I just wanted to let her know that I missed her."
Rocky start
McCrary traveled to South Africa for two weeks during the end of July and beginning of August. She went with a mission group and had the experience of a lifetime, but the first couple days were a bit rough.
Her first layover was in Atlanta. Her supposedly 15-minute layover turned into 10 hours of waiting. Eventually her flight landed in London.
She then proceeded to spend nine hours in London, before finally flying on South African Airlines to her destination - Capetown. Once she reached Capetown, McCrary and her friend, Alli McDermott, thought about taking a swim in the hotel pool.
"On the first day, we see this swimming pool outside, but it's only like 60 degrees outside, so we walk through the lobby in our swimsuits," McCrary said. "They are all laughing at us, but we didn't care. I stuck my foot in and pulled it out so fast. It felt like melted snow. We walked right back inside and the hotel staff is cracking up at us and asking how it was."
McCrary and the mission group did settle in and enjoy some much-needed rest during the following days. One of their trips was a safari with an experienced tour leader. Despite being warned about the chance of baboons attacking, McCrary wasn't ready for what she was about to go through.
"It was the scariest thing of my life," McCrary said. "Now it's sort of funny, but when I was there, I was out of that car so fast. It was really scary.
"We open our sliding door and there is a baboon running at our van. We yelled at a girl to shut the door but she didn't shut it in time so we jumped out of the van," she said. "There was one girl who got stuck in the back of the van. The baboon came in and sat on her lap. The baboon took our bag of food and it's the biggest baboon our leader has ever seen. The girl that it sat on didn't talk for the rest of the day. A couple days later she kind of thought it was funny, but it was still a touchy subject."
Out of comfort zone
Although the first few days were a bit scary and time consuming, McCrary did enjoy the rest of her trip. Most of it was 'life changing' and a side of life she had never experienced.
The mission group visited some townships in Capetown. The townships are the poverty-stricken parts of town, which took her by surprise.
"It was really intense. I don't know if I prepared myself for that much of what I saw," she said. "I thought they would keep us in a safe area, but they just threw us in there. It was really intense."
One day the group decided to visit an AIDS clinic outside of Capetown. It was another learning experience for McCrary, but it's one she won't soon forget.
"The School of Hope was this awesome facility. It's an AIDS clinic for 3 year olds and younger," she said. "The full-time doctor is from the US and everything in there has been donated to the facility. They have lots of medicines and the kids in there are so happy. They are so happy, but they're dying and it's not their fault."
The group's final day in South Africa was spent at the southern tip of the continent. It was a site McCrary would love to return to.
"Cape Point is where the Indian Ocean meets the Atlantic Ocean and it was the most beautiful place ever," she said. "We had to like walk the Great Wall of China to get there. I'm not kidding, because it's like a mile walk down on these tiny wooden planks."
Upon reaching the bottom of the stairs and arriving at the beach, McCrary and McDermott came up with an idea they soon regretted.
"There were these hills of sand and Alli and I decided to roll down the sand," McCrary said. "That was a stupid idea. I had sand everywhere you can imagine. That night, after we both showered, our shower had sand piles in it."
Home sweet home
Much like most vacations, McCrary's mission trip to South Africa was an enjoyable one but too many days away from her normal life took its toll. After 12 days in another country, she was ready to come back to Baldwin City.
There was only one problem - the airline companies delayed those plans.
"Our trip was 37 hours on the way back, because our fuel pump broke while we were on the runway," she said. "So we sat in the plane for three hours before we even left. It took us 37 hours to get back home and I think I maybe slept five hours on the way home. It was so crazy."
Her final flight arrived in Kansas City, Mo., more than a day later, but her sister and parents were there to greet her with love.
"It was awesome when we went to the airport and picked her up," M. McCrary said. "She was texting us while she was in the plane, so watching her come through the door with a smile on her face and run to us was awesome."
A couple of weeks after returning to Baldwin City, McCrary gave a presentation about her trip to family and friends at the Lodge. At the end of it, she expressed how the trip changed her and how thankful she was for everyone who helped her.
"I can't tell you all the ways that my life changed," McCrary said. "I want to thank everyone that helped me go on this trip, either financially, spiritually or whatever way they helped. I can't thank them enough."