Lofty expectations for the Bulldogs again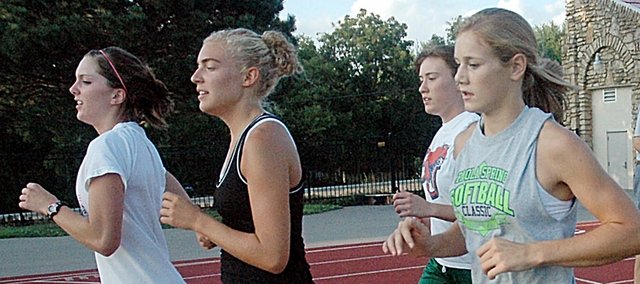 Every autumn, high expectations and state-championship hype surround Mike Spielman's Baldwin High School cross country teams - and this year is no exception.
The BHS girls' squad is the returning Class 4A state champs and the boys are the returning runners-up. Both were picked in those same spots in the preseason coaches' poll that was recently released.
Baldwin will put those rankings to test against another top-ranked team this afternoon at the Anderson County Invitational.
"The polls came out last week and we are No. 1 on the girls' side and De Soto is No. 2," Spielman said. "On the boys' side, we are No. 2 and De Soto is No. 4. We get to see some of the top teams in the state right off the bat before going to Wamego."
When asked about their high expectations and goals for the season, seniors on both teams agreed that they are aiming high once again.
"We have really high expectations again," senior Connor Wright said. "We are ranked second in the state. I would say that is well deserved, because Mulvane is a good team. I hope we can put together some good races and challenge them."
While the boys look to challenge Mulvane for the state title, the BHS girls are shooting to win back-to-back titles for the first time since 2003.
"We think De Soto is our main competitor this year, but we are still aiming to repeat," senior Calleigh Durr said. "We will both have good teams, so we're looking forward to facing them and seeing how it goes."
Both BHS teams face different obstacles in their path to the state meet on Nov. 1. For the girls' squad, their biggest hurdle will be overcoming the loss of two-time state champion Heather Garcia, who now runs for NCAA's Boston College.
"I think there are a bunch of them that want to be the No. 1 runner, so it's made a nice competition for that spot," Spielman said. "I think that's going to help us, because they're going to have to run well to beat each other. They're all friends, but that spot is up for grabs and we might have a few different people lead us throughout the year."
The reality of a graduated Garcia has hit the Bulldogs, who are trying to succeed without Baldwin's all-time best female runner.
"We really miss having Heather and always having that No. 1 runner, but I think we're going to be OK without her," Durr said. "We have a good pack of girls this year."
Senior Corinna Papps agreed with Durr about the pack of girls running together at practice everyday. She just hopes that final varsity spot will be filled with someone wanting to contribute to the team's success.
"We've got a good pack of six girls right now," Papps said. "We're still waiting for that seventh runner to step up, but it's early. We are all pushing each other in practice and working hard."
Joining Durr and Papps in that group has been junior Connor Twombly, junior Julie Hill, sophomore Heather Karlin and senior Hannah Sigvaldson. Several of those girls have run together before, so Spielman is hoping the gap between first and fifth will be minimal this season.
"I think we're going to have a great pack," Spielman said. "We would always talk about our split from first to fifth runners, but with somebody like Heather (Garcia), there was always this big gap. Now, I think we will have really low splits this year, because we'll have a nice pack. We just have to keep moving it up to the front."
Last year, De Soto finished second to Baldwin at the state meet, despite beating the Bulldogs on several occasions earlier in the season. The Wildcats only graduated their seventh runner from that team, while Baldwin lost Garcia and its seventh runner, Colby Heckathorne.
The Bulldogs and Wildcats will face off today, Sept. 13 at the Wamego Invitational and several other times during the season. The Bulldogs are ready for the challenge.
"I think it's nice to run against them early in the season, to see how both teams have been training and how we stack up against them," Durr said. "Wamego is especially nice, because a lot of teams from the entire state are there."
While the Wildcats remain a threat for the BHS boys, they are aiming for the state's top team, Mulvane. A year ago Mulvane medaled six runners at state. The only non-medalist was its senior.
Defeating a team with that kind of talent returning will be tough, but it's a challenge the Bulldogs are happy to take on.
"It's going to be tough, because they return almost all of their varsity guys from last year," sophomore Tony Weiss said. "I think we have a shot at beating them, because we have a stronger base this year. It will be tough, but we're looking forward to it."
Weiss was Baldwin's top runner from a year ago as he placed fourth at the state meet. After just two weeks of practice, Spielman is thrilled with the sophomore's progress.
"Tony had a great summer and he's just clicking things off right now and he's looking really strong," Spielman said. "It will be exciting to see how the season goes for him."
Other top returners include Wright, senior Brad Canterbury and sophomore Carson Barnes. Baldwin will be looking to a couple of freshmen and a newcomer to solidify the varsity roster.
Highly-touted freshman Brian Wright should make an immediate impact for the Bulldogs. His older brother is happy to see B. Wright helping the team already.
"There is a little bit of rivalry," C. Wright said. "We don't think of it much like that. It's good to have him here. He's fast."
The other freshman is Tosh Mihesuah, who will be competing with junior Josh Hanson for the final two varsity spots.
"We've been able to add some kids that have the talent to run up front, but we've also added some depth in there. We've got 25 guys out and it's making a big difference. I think it's going to make our JV team strong this year."
Baldwin will host two meets this year - both on Saturdays. The first will be Sept. 20 and the second will be two weeks later, Oct. 4.
"It's going to be really nice," Spielman said of the home meets. "We're fortunate, because our course is a really nice cross country course. It's got great footing and it's not really hilly. You can run good times on it and a lot of the high school kids can come out to watch."
Today's meet will begin at 4 p.m. in Garnett. The freshman boys will run first, with the junior varsity girls starting next at 4:30 p.m. Each following race will begin 30 minutes after the previous one. The order of the final three will be JV boys, varsity girls and varsity boys.
"I'm ready to start," C. Wright said. "After a couple hard weeks of training, we are ready to get this first meet out of the way."