Despite losses, volleyball squad remains optimistic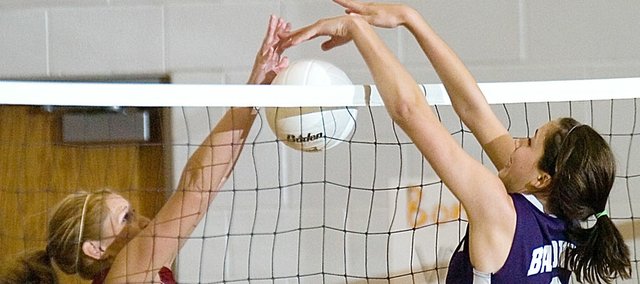 Although the Baldwin High School volleyball team didn't win a match here on its opening night, it did manage to take every match to three games.
The Bulldogs faced Eudora, Basehor-Linwood and Bonner Springs at the quad Tuesday night. They went 0-3 to begin the season, which was frustrating for senior Olivia Catloth.
"We figured out a lot of stuff that we need to work on as a team," Catloth said. "We played hard and we did a lot of good things, but we didn't do it consistently. We need to pick up and finish the games."
Coach Kelly Brown was also disappointed the Bulldogs were unable to win any matches Tuesday.
"It's always nice to get that win under your belt that first night, so that's disappointing for everybody," Brown said. "I'm glad we fought hard and went to three games every match. We just need to fix some mental lapses during those games."
Baldwin began the night with a win against Basehor, 25-23. However, they were beaten badly in the next two games, 25-11 and 25-15. In the next match, Baldwin nearly beat rival Eudora. The Cardinals won the first game, 25-14, but the Bulldogs took game two, 25-23. The final game belonged to Eudora, 25-16.
"We took them all to three games," Brown said. "We've never taken Eudora to three games, which is a big change for us. Right now we are battling with inconsistencies. We are trying to get the girls consistent on serve-receive passing."
The Bulldogs had opportunities to earn their first win against the home team, Bonner Springs. They won the first game, 25-23, and went into overtime in the second game, but fell 32-30. The final game also went to Bonner, 25-23.
"Considering we've beaten Bonner the last two years, everyone went into it a little lackadaisical and thinking we had this one in the bag," Brown said. "Bonner wouldn't let the ball hit the floor. They were scrappy and they did some things that threw our offense off."
Brown and Catloth both agreed the Bulldogs have plenty of things to improve on after the opening night. One aspect of the game they both said was their offense.
"We need to work on our hitting," Catloth said. "We tipped a lot tonight, which is something we haven't worked on. I think our nerves came out tonight, which was nice to get out before we play at home."
Baldwin returns several hitters, two of whom are sophomores and one who is a senior, from last year's team. During practice and Friday's scrimmage, Brown has been pleased with their progress. However, she wasn't happy Tuesday with their performance.
"We've got to get somebody that is going to consistently put the ball away," Brown said. "Our hitters, the ones that have looked so great in practice, are not putting the ball away in games. It's something that I know they have in them."
Brown also said the Bulldogs need to work on serving, since they lost several points because of unforced errors. She did say that was partially because of jump serves and aggressive serving by the Bulldogs.
Despite several negative comments after the matches, Brown did say she was pleased with all of the players' efforts.
"I saw great things out of every single player tonight," Brown said. "We blocked well tonight and owned the net. Our defense was phenomenal, but we've got to get our offense going."
Since it was the first night and several members of the team are new or new to the varsity level, Catloth is remaining optimistic about the rest of the season.
"The team is coming together pretty well," Catloth said. "Tonight, we figured out everyone's playing mode. We will change some things and get it figured out."
Baldwin will host Tonganoxie at 5 p.m. Wednesday in the Baldwin Junior High School gym. The freshman and junior varsity teams will also play. It will be senior night for the trio of seniors, although they have a home match later in the season. Brown wanted to hold the senior night when all three teams will be playing at home.