Crenshaw among district teachers to land grants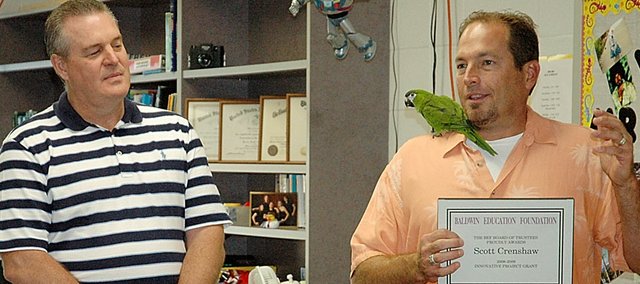 Scott Crenshaw was welcomed to the Baldwin School District with a certificate, balloon and $750.
Baldwin Junior High School's new seventh grade science teacher will now have extra money to help maintain the dozen animals living in his classroom. Since he's only been a Baldwin employee for a few weeks, Crenshaw was overjoyed when the Baldwin Education Foundation "prize patrol" walked in his classroom Friday morning.
"I was very surprised, especially for a first-year teacher," Crenshaw said. "I just didn't expect it. I didn't know what they were looking for. I had no idea what they supported. That was pretty wild."
Crenshaw was one of 13 recipients of the third annual BEF Innovative Project Grants. Despite being a first-year teacher in the district, Crenshaw wasn't shy about trying for the grant. He wasn't exactly sure what the BEF was looking for in its recipients, but he applied anyway.
Then the group of BEF board members, BJHS Principal Connie Wright and Supt. Paul Dorathy walked into his room Friday morning with his gift. His grant money will be used to fund his BJHS animal program.
"I have an extended zoo in here and it's very expensive to maintain," Crenshaw said. "Plus, I wanted to get the kids involved, so as long as there was a group like that offering money to help, I thought I would apply. It sounded like a good idea."
The dozen animals in Crenshaw's room are an American alligator, Burmese python, two ball pythons, green iguana, hedgehog, salmon bird-catcher tarantula, lion-headed rabbit, scorpion, bearded dragon, corn snake and a red-shoulder macaw.
There were 18 teachers awarded with the grants Friday. The total dollar figure distributed was $8,940. A total of 36 grant applications were turned in this year. Most of the grants totaled $750, which is an increase from the $500 grants awarded the previous two years.
BEF Executive Director Kathy Gerstner said the board of trustees had a difficult time selecting the grant recipients this year, but hopes the ones not chosen won't get discouraged next year.
"It was a struggle this year to choose the winners," Gerstner said. "We were pleased with the quality of grant ideas from everyone. We had a difficult time narrowing it down."
The education foundation received its donations from various sources this year. Some of them include the State of the District Breakfast in March, Bunco Night last spring, Buckets for Basketball during the winter months and significant alumni donations, according to Gerstner.
"It was a terrific year," she said. "We had a really successful year fundraising for the foundation. We were hoping to impact more of the kids and give the teachers more money for their wonderfully innovative ideas."
The grant recipients were:
Brooks Heath, Scott Crenshaw and Nikki Burnett, Baldwin High School and BJHS Science, "Science Ambassadors," $750, presented by Susan Case in honor of Mary Plank.
Bonnie Butell-Huntoon, BHS English, "Interactive Grammar and Technology," $750, presented in honor of the Class of 1968.
Loretta M. Verhaeghe, Vinland First Grade, "Birds in Our Backyard," $420, presented in honor of Moleta Schmidt.
Donna Reed and Doug Woolery, Baldwin Elementary School Intermediate Center fifth grade, "Outdoor Education through Pond Habitat Improvement," $750.
Becky Florance, BESIC fourth grade, "Bullpup Investigative Greenhouse," $750.
Lee Hanson and Sara Oberheide, BESIC third grade, "Interactive Science Kit," $750.
Holly Gaylord and Angela Spielman, Baldwin Elementary School Primary Center Physical Education, "Wellness Program," $750.
Will Cooper, BHS and BJHS Band, "Interactive Drill Writing Software," $620.
Marilee Valentine, BJHS Social Studies, "SMART Social Studies," $400.
Scott Crenshaw, BJHS Science, "BJHS Animal Program", $750
Ronda Schulte, BJHS Reading, "DIVERSITY," $750.
Deb Kalkman, BJHS Language Arts, " Multicultural Awareness," $750.
Heather Wallsmith and Karen Hemphill, Marion Springs Elementary School kindergarten through second grade, "Literacy Centers in the 21st Century," $750.