Council's coarse on course
Status of golf course land is brought into question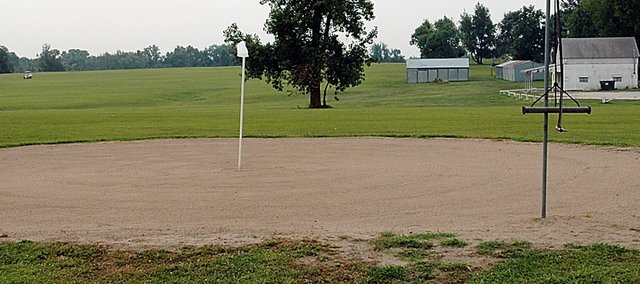 Baldwin City Council President Amy Cleavinger drove her point home Tuesday night about the city-owned golf course and she didn't yell "fore" before she did it.
Cleavinger caught the council by surprise at Tuesday's meeting when she brought up what was being done to turn the parcel of ground purchased three years ago into a recreation area, as planned when the council approved the $550,000 purchase.
"We agreed to purchase this land not to continue using it as a golf course," said Cleavinger. "I hope there is a plan in place for some golf to continue there, but that's not why I voted for this."
Mayor Gary Walbridge agreed that the land wasn't bought to continue as the Baldwin City Municipal Golf Course, a nine-hole sand-green course just south of the Midland Railway.
"That's right," Walbridge said.
The mayor appointed a committee to study uses for the green space, but admitted that group has never met. Council Member Doyle Jardon said something needs to be done to create more areas for youth and others to participate in various sports, citing several areas that are being used for that, which aren't sufficient.
"I appreciate Amy bringing it back up because it's gone by the wayside," said Jardon. "Our kids are needing places to practice."
Council Members Tony Brown and Ken Wagner, members of the community development committee, said they'd been waiting to hear from the committee and new Baldwin City Recreation Commission Director Steve Friend on suggestions for what to do with the 63.63-acre parcel of ground.
"I haven't pushed this idea until he comes up with a plan," said Brown.
"We have a really nice space that could be used for more people," said Cleavinger.
Council Member Ted Brecheisen Jr., a member of the golf course association, said that group is bothered with the situation, too, and noted that many groups from the Baldwin School District and Baker University - such as cross country teams - use the area, as well as other members of the community.
"We struggle with that at the golf course," said Brecheisen. "I really think as a community we need to talk about the golf course. There are a lot of people that use that. It is an overall part of the community. For a lot of people, it's more important than baseball fields.
"I think if the rec commission wants to take it over, I'd like to talk to him about it," he said. "We (golf course association) need more than a one-year lease (which it has had from the city since purchase). If we knew we'd be there four or five years, that's one thing. Year to year is hard."
Brecheisen said the association needs to know about the future in order to know whether to buy equipment to maintain it.
"I wouldn't be buying any equipment," said Jardon.
City Administrator Jeff Dingman reviewed the process and established what the overall goal with the purchase was.
"That was to keep it as green space," said Dingman.
The consensus of the group was to get the ball rolling with both committees.
"I think it's high time we move forward on this space," said Walbridge. "I'd like the committee to meet with the community development committee to brainstorm."
Dingman said he would arrange such a meeting.
"Let's talk about a time frame to get together," said Wagner.
"It's an asset that we need to be considering," said Cleavinger.
There was some action from the safety committee on two items. The first made changes to the burning ordinance adopted last year. Residents have to obtain a permit to burn leaves and last year those permits were for one day.
"The biggest topic of discussion was length of time," said Dingman. "The permits should be good for three days instead of one. That way you can get a permit on Friday and be able to have the whole weekend to get it done."
The ordinance was also tweaked to stipulate where burning can take place, which is 20 feet from any structure or automobile.
The council also approved a no parking zone in front of the new residence hall on Baker University, the Living Learning Center, to keep the area open for pedestrians.
"It's just to make the area safer because there is more foot traffic," said Brown, who chairs the safety committee.