BHS

soccer team bounces Chieftains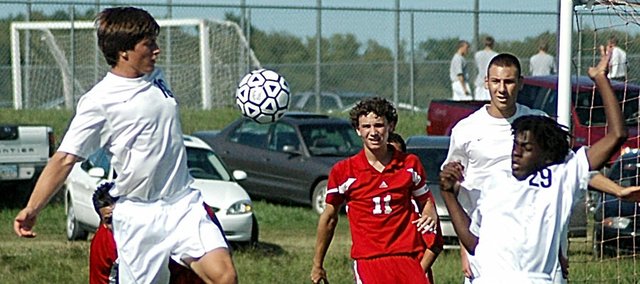 Matt McCune's debut as Baldwin High School soccer coach exceeded his own expectations.
After nine days of practice, his Bulldogs hosted Tonganoxie on Friday to open the season. They defeated the Chieftains 2-0 to give the first-year coach his opening victory.
"We played all right," McCune said. "It was almost what I expected and we may have even played a little better than I expected."
McCune took over the fourth-year program, which was under the guidance of former coach Gus Wegner for its first three years. Although the Bulldogs won the contest, McCune already saw some areas that need improving. However, he credited his team's conditioning in the victory.
"They were aggressive and we weren't," he said. "I think we could have moved to the ball better. But overall, I think we were much better conditioned than they were. That is what ultimately won the game. You could see they kind of hit the wall during the final 10 minutes of the game."
Junior Levi Moore, the opening goal scorer of the season, also said fatigue became a factor late in the game.
"It was nice to get the win," Moore said. "I thought we played pretty well. We had a lot more endurance than they did."
Moore scored his goal near the eight-minute mark of the second half. It broke a 0-0 tie. Sophomore Will Nitcher assisted Moore on the goal.
"It was a really lucky goal, though," Moore said. "The ball came off the defender and sort of rested on my hand and shoulder, then I tapped it in for the goal."
That goal seemed to spark the Bulldogs, who began to play with a bit more confidence as they led 1-0 over the Chieftains.
"Goals do build confidence," McCune said. "You can go games without scoring and get frustrated, but when you get one, you'll score a whole bunch of goals."
With a 1-0 lead still intact, Baldwin would add its second score of the afternoon with about eight minutes remaining in the contest. Freshman Shawn Berndt dribbled the ball alone from midfield and dropped his shot just over the goalie's outstretched arms.
"That was fantastic," McCune said of Berndt's goal. "He plays a wing because he is so speedy and can recover fast. He's a great athlete, but his skills are kind of raw right now. That goal will be huge for his confidence, because he knows he can score on the varsity level as a freshman."
That second goal sealed the opening victory for the Bulldogs on their home field. Some of the BHS players were happy with their crowd and support Friday.
"It's always nice to start at home," senior Casey Wagner said. "We had a nice turnout with more fans than we usually do. It's nice of them to come out and see us play."
Senior Nick Barkley was thrilled to begin the season 1-0, especially after graduating a handful of talented seniors a year ago.
"It was fantastic," Barkley said. "We haven't had much time to get used to playing with each other on the field, but we pulled it together to get the win. That's exciting."
Tonganoxie did give the Bulldogs a scare in the first half. The Bulldogs were called for a hand ball inside the goalie box, which resulted in a penalty kick for the Chieftains. The kick rolled just outside the left post, missing the goal and maintaining a scoreless game.
"I wasn't too worried about that," McCune said. "If that's going to happen, I would rather get it out in the first game of the year. If that would have gone in, we probably would have won 2-1. I'm glad it didn't go in, because it can hurt confidence. But it was OK."
Baldwin will play at Spring Hill today, beginning at 4:30 p.m. BHS will return home for games against Paola on Tuesday. The first game will begin at 4 p.m.