PK

goal ends Bulldogs' season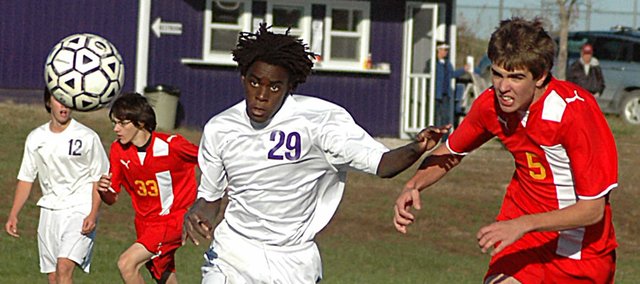 Louisburg — Merely 24 hours after an exciting victory, the Baldwin High School soccer team's season came to a halt here Tuesday.
A 2-0 victory over Columbus nearly gave the Bulldogs enough confidence to upset top-seeded Louisburg in its regional tournament. However, the Bulldogs fell victim to a heartbreaking 2-1 loss that ended their season.
"One thing I've been stressing all year is playing 80 minutes of intense soccer," coach Matt McCune said. "We did that and we played smart, too. That kept us in the game. With so many seniors on the team, there was a sense of urgency, too. They know if they don't bring it, then it would be their last game."
Unfortunately for the 13 BHS seniors, it was their last game as Bulldogs. This group of Bulldogs was the first freshman class in the BHS soccer program, which began in the fall of 2005.
"These seniors built this program," McCune said. "Without those guys and girls we wouldn't have this program. Their parents got this started and got soccer going in Baldwin."
Baldwin and Louisburg played an even game Tuesday, but one call was the difference in the contest. With the game tied at 1-1, the Bulldogs were whistled for a penalty inside their own penalty box.
The resulting penalty kick gave the Wildcats a 2-1 lead with about 15 minutes remaining. After the game, McCune wasn't sure what was called because the head official never came over and explained the call to him.
"I never found out," McCune said. "I heard a handball. I'm not going to question a call, because he had a better angle than I did, but a trip could have been called a few seconds earlier or maybe a handball. I'm not sure."
During the waning minutes, the Bulldogs had a few shots on goal but the Wildcats' goalie stopped them all. Time just ran out on the Bulldogs' postseason chances on a chilly October night.
"At the end, we had three or four shots right at the keeper," McCune said. "If those are to the right or left just a little bit, those would have been equalizing goals."
Louisburg scored first during the middle of the first half. The Bulldogs quickly tied the game on a shot by senior Casey Wagner. He saw an opening and shot, but the ball bounced off two players and passed the goalie. It was his first-ever varsity goal in his last-ever high school game.
Despite the season-ending loss, McCune was proud of his team for executing the game plan and playing hard all game long.
"We executed the game plan that we wanted," McCune said. "We changed the line up just a bit and everyone played really hard. We wanted to run harder and kick the ball harder than they did. We did both of those things.
"Every now and then you just get a little bit unlucky in soccer and for five seconds in the second half, we got unlucky," he said. "We had a call go against us for a PK and there's nothing you can do against a PK."
On Monday night, the Bulldogs hosted Columbus for the play-in game between No. 4 and No. 5 seeds. They broke a 0-0 halftime tie with a pair of goals in the second half to win 2-0 in their final home game.
"It was an amazing win," sophomore Sam Richards said. "We didn't start out playing too well, but then we came out a lot better in the second half. We're just really psyched to get the win."
Richards scored the second goal of the night. It came with less than five minutes remaining in the game. It wasn't exactly a shot on goal, but it sailed over the goalie's head and into the net.
"It was great to score my first varsity goal," Richards said. "It was very exciting. It was meant to be a cross for someone to head in or something. I got a little too much of it and it went in the goal. At first I thought it was going over the goal, but then the wind caught it and it dropped in. It might have been dumb luck or something. I'll still take it."
Richards' coach was happy to see him score his first varsity goal.
"What Sam lacks in skill, he makes up for in hustle," McCune said. "That was a total hustle play. I do believe it was probably a cross, but soccer is a lucky sport that you have to earn that luck by putting yourself in that spot. He did that by hustling to the ball."
Freshman Shawn Berndt scored the other goal on a header. Fellow freshman Caleb Michels shot the corner kick that Berndt headed into the goal to break the 0-0 tie.
"Caleb has a lot of confidence right now," McCune said. "His confidence has been sky high in the last week, which is good. I was surprised he even took the corner. It was a perfect play on both ends. A header goal is the best, because it takes two people to be involved. Once I Shawn running in uncovered, I knew he was going to score."
Baldwin finished its season with a record of 6-12.