Brown, Coen offer differences as 10th district candidates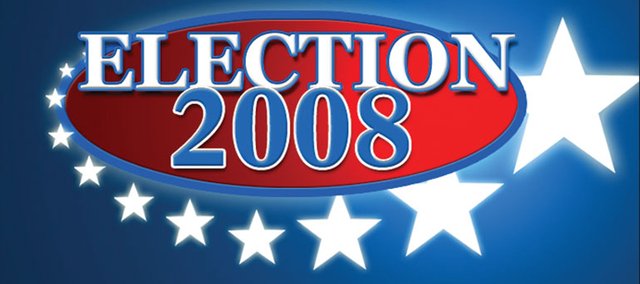 There's a clear choice between the candidates for the 10th District House of Representatives seat.
Tony Brown, D-Baldwin City, and John Coen, R-Baldwin City, cite their backgrounds as reason to vote for them.
"I honestly think that we have got to try some new ideas in the Kansas Legislature," said Brown, who has been a psychology professor at Baker University for 18 years. "I've tried to find some new ideas in my opponent's platform and they aren't there.
"My record at Baker University and on the city council demonstrate that I'm an innovative thinker who bases decisions not on my own personal preferences, but on objective evidence," said the four-year veteran of the Baldwin City Council.
Coen, who was a dairy farmer for 18 years prior to joining the staff of Senate Majority Leader Derek Schmidt, R-Independence, two years ago, thinks his time in Topeka favors him.
"I think if I were to draw a distinct line between me and my opponent, it is the experience of having worked in Topeka," said Coen, who has also served on the Ottawa School Board one term and on the Ransom Memorial Hospital board of trustees. "I think the biggest difference between me and my opponent is I know Topeka.
"I know my way around and will hit the ground running," he said. "I would like to put my experience to work for this district."
Coen said although he didn't cast votes in his role as a policy development and constituent services person in Topeka, he saw first hand how the legislature works.
"I was on the floor with him for support," said Coen. "That's why I decided to run. I liked the process, but it's a bit like being the vice president supporting another person's policies."
Brown cited programs at the university that he helped start, such as first-year seminar for incoming students and revitalizing the honors program, plus his city council work in bringing the mostly state-funded $1.8 million revitalization to downtown as examples of his innovative thinking. He's got similar plans for Topeka.
"I think we've got to continue the trend toward funding K-12 education and higher education, but I'm also convinced that we need to concentrate on early childhood education," said Brown. "In the area of healthcare, we have got to start standardizing the kinds of healthcare services that are available in certain parts of the state, but not in remote areas. These include electronic health records, forming larger doctor's groups and streamlining insurance processing."
Coen also said education is a key item.
"I think education is always an important issue," said Coen. "It is the biggest budget item at 65 percent. Just like the bond issue that Baldwin is considering, I will always make sure local boards always have control and the local community always gets to decide.
"I will always support the three-year rolling fund that was established by the Supreme Court," he said. "School boards now know what their budget is going to be. Having served on a school board, I know how important that is going to be."
The second issue both listed was energy.
"Energy is going to be a big thing for the state, in so much as it dominated last session and, since nothing was decided, it will be again," said Coen, adding he'll promote reliable, renewable and affordable energy. "Everyone expects for the lights to go on and everyone expects to be able to pay for it, so coal will be a part of it. I will insist on 20 percent renewable by 2020. That is an extremely lofty goal. The infrastructure is not there and will take a lot of doing."
Brown believes there needs to be more alternatives.
"Everyone seems to agree on the environment and comprehensive energy policy, but there have been no discussions on those," said Brown. "Let's get beyond just talking about coal and natural gas. Let's have serious discussions about wind, solar, geothermal and nuclear energy in the state of Kansas."
The candidates are seeking the House seat currently held by Tom Holland, D-Baldwin City, who opted to run for Senate this year. Brown had an online chat last week on ljworld.com and baldwincity.com. Coen's online chat will be at 10 a.m. Friday.