BJHS

excellence cost Gresnick his hair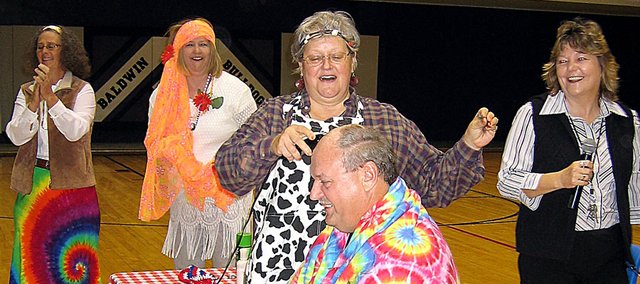 Baldwin Junior High School students forced Joe Gresnick to lose his hair recently.
Gresnick, the assistant principal at BJHS, made a deal with his students last year. If they made the Standard of Excellence in every category on the 2007 Kansas State Assessments, he would shave his head.
After the results were tallied, BJHS made the prestigious mark in all nine categories. Soon to follow the announcement, Gresnick's head was shaved by Principal Connie Wright and others.
"I made them a deal that if they made the Standard of Excellence on all of the tests, I would shave my head," Gresnick said. "They met the criteria and the hair came off really easily. They did a great job and I'm proud of them."
BJHS made the Standard of Excellence mark on the reading and math exams in all three grades and building wide. BJHS also hit the mark on the history/government test, too.
"They did really well," Gresnick said. "We scored well in every area. We are hoping to get the Governor's Award again this year, but we know it's pretty tough to get."
BJHS wasn't the only school in the district to hit the Standard of Excellence on all tests. Baldwin Elementary School Intermediate Center and Marion Springs Elementary School also attained the prestigious mark on all exams.
"Overall, the district did very well in reaching the number of the standards of excellence that this school district has in all of the possible areas," Supt. Paul Dorathy said. "Our students and staff worked very hard again and their effort shows in how well we did in those assessments."
On the reading exam, Vinland Elementary School made Standard of Excellence in third grade, fourth grade and building wide. Only the third graders made the mark on the math exam at VES. Baldwin High School reached the mark on the reading and math exams as a building.
"This is only one indicator of the type of job we are doing with kids," Dorathy said. "We have lots of other things and this is not everything. It tends to be the measuring stick that the state and many people measure us by. At the present time, our schools are doing a great job with state assessments and how our students score on those. Our staff and students need to be proud of what they've accomplished."
Although the Standard of Excellence results are finalized, the state has yet to release the Adequate Yearly Progress reports. At first glance, Dorathy is confident Baldwin has made AYP as a district, since 96.3 percent of students in the district were proficient or better.
"It's still preliminary, but district wide we made AYP in all of the schools," Dorathy said. "I would guess with the number of standards of excellence we had, that we would make AYP in all categories. I would expect that all buildings made AYP.
"It can be affected by our students who receive free and reduced lunches and by special education students," he said of AYP. "We have to do well with those students also. We had 92.5 percent of our free and reduced students at the proficiency level or higher. We also had 89.2 percent of our special education students at the proficient standard or higher. So our students are doing well in those categories."