'

Bitter-sweet' defeat
Bulldogs lose to rival, stay alive for bi-district playoffs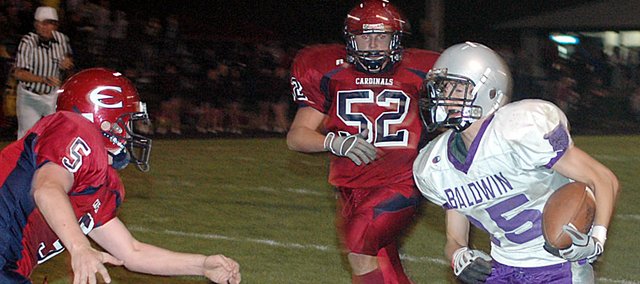 Eudora — To say there was mixed emotions here Thursday night would be a major understatement.
Eudora High beat rival Baldwin 35-28 to win its second Class 4A district game of the season. However, it's the Bulldogs that will advance to Tuesday's bi-district playoffs.
"This is a feeling I've never had as a coach," Baldwin coach Mike Berg said. "It's a bitter-sweet feeling. We got out hit tonight. Eudora absolutely ran right at us and we couldn't stop them. My hat's off to them for a great scheme. We just came up short."
The Cardinals needed an eight-point victory to secure a spot in the postseason. Despite the emotional rivalry victory, the Cardinals' season ends with a 3-6 record.
"To beat Baldwin is a big deal," Eudora coach Gregg Webb said. "I'm so proud of our kids and it did show that we were way better than what our record indicates. That's the frustration I found all year because that's the potential I saw all year"
Eudora held a 14-point lead in the fourth quarter, but Baldwin's Sam Beecher scored a touchdown with 21 seconds remaining in the game. Logan Schiller booted the extra point attempt through the uprights to secure Baldwin's postseason chances.
The seven-point loss means Baldwin will play on the road Tuesday. If the Bulldogs would have made a two-point conversion after the final touchdown, they would host a game Tuesday. However, if they missed the conversion, their season would have been over.
"Seven was the magic number for us," Berg said. "We are going to be playing on the road. If we lost by six, we would be playing at home. We made the decision to kick as a coaching staff, because we had confidence in Schiller. We didn't want to put our season on the line with a two-point conversion."
Eudora called a timeout to ice Schiller. He said thoughts were running through his head before the kick.
"It was a really tough loss, but we got some relief by barely making it into the playoffs," Schiller said. "I tried not to feel the pressure on that last kick, but I did. I was just happy it went in."
Eudora's Ryan Fisher led the Cardinal's attack all contest long. He carried the ball 49 times for 443 yards and five touchdowns.
Baldwin answered Fisher's first three scores of the night with touchdowns of its own. Andy Thurlow, Brandon Tommer and Beecher scored for BHS.
The Bulldogs finished second in its district three-way tie as Eudora was the odd team out. Perry-Lecompton won the district. The Bulldogs will next play at 7 p.m. Tuesday at Bishop Miege.
Eudora News reporter Jeff Deters contributed to this story.
Scoring summary
B – 0 14 0 14 - 28
E – 0 13 7 15 – 35
E — Ryan Fisher 60 run (Boomer Mays run failed)
B — Andy Thurlow 59 run (Logan Schiller kick good)
E — Fisher 27 run (Bryan Kindle kick good)
B — Brandon Tommer 65 reception from Sam Beecher (Schiller kick)
E — Fisher 24 run (Kindle kick)
B — Beecher 11 run (Schiller kick)
E — Fisher 87 run (Kindle kick)
E ¬— Fisher 54 run (Evan Cleveland pass to Hawley Montgomery good)
B — Beecher 1 run (Schiller kick)