BHS

cross country teams win regionals, advance to state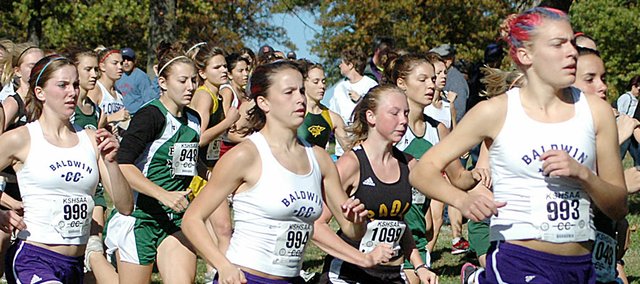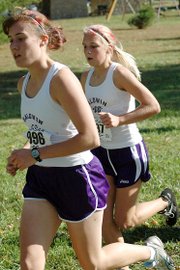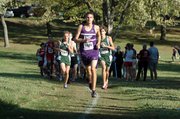 Bonner Springs — Although the most important meet of the season lies ahead for the Baldwin High School cross country teams, they might have gained a bit of confidence here Saturday.
BHS left Wyandotte County Park with a pair of Class 4A regional titles to add to its trophy case of hardware for the season. It was the third straight meet Baldwin has swept, with the other two being the Frontier League meet and Sabetha Invitational.
"I am proud of our performance at regionals and really happy that our underclassmen really stepped it up," senior Corinna Papps said.
Papps led a BHS girls' squad that once again defeated rival and top-ranked De Soto. Baldwin scored 30 points as the Wildcats tallied 43 to place runner-up. Saint James Academy was the other team to qualify for the state meet as it scored 114.
"It was kind of nice that De Soto ran all of their girls, because they hadn't had a full team in a while," coach Mike Spielman said. "I don't know if they are still healthy yet, but they finally ran everybody. So we got to see a little bit of the head-to-head competition.
"Corinna had a great race and so did Elizabeth (Sigvaldson)," he said. "If we just have two or three of them have great races and the rest run solid, we should be in pretty good shape."
Papps led Baldwin with a second-place individual performance behind De Soto's Ellie Sheridan. Papps finished the 4-kilometer course in a time of 15:49.46, only six seconds behind Sheridan but eight seconds ahead of the Wildcats' Lacey Erickson.
"She did a nice job of moving up throughout the race," Spielman said. "The De Soto girls have beaten her most of the year so it was nice to get in front of one of them."
Five Baldwin girls finished in the next nine spots as the other four runners were from De Soto or Saint James. Senior Calleigh Durr was the second Bulldog across the line as she finished fifth. Junior Connor Twombly followed Durr in sixth place.
"It was really exciting to win," Twombly said. "I didn't think I ran that well, but we won, so that's the important thing."
Freshman Sigvaldson finished in eighth place, just ahead of sophomore Heather Karlin and junior Julie Hill (11th). Freshman Abi Hartzell was the final Bulldog to finish as she placed 39th.
"I thought we all ran really well," Twombly said. "We had people step up again, like Elizabeth and Corinna. It's good to have everybody pushing each other."
Spielman is especially happy with how Sigvaldson has improved throughout the season, because she is giving the Bulldogs' depth.
"It helps a bunch," Spielman said of Sigvaldson running well. "When you get six people running well, if one person has a bad day it doesn't hurt you because you are scoring five. It keeps that pressure up on each other. We talked about when you get down to this time of the year, there are ties and everybody is so even that it's nice to have that sixth runner be strong to break any ties."
The BHS boys also had a successful day at the 4A regional. The Bulldogs scored 29 points, which was doubled by second place, Paola (58). De Soto finished third on the boys' team side with 61 points.
"It makes a difference when we get everybody through the finish line," Spielman said. "They ran really well and had four low scores with Tosh (Mihesuah) getting seventh as our fourth runner. Placing first and second helps a bunch, too. I thought they all ran really well, but Tosh and Brad (Canterbury) stepped up and had big races for us."
Baldwin was led by a one-two finish by sophomore Tony Weiss and freshman Brian Wright. Weiss won his third consecutive race in a time of 16:48.59. Wright placed runner-up as he ran 17:16.19.
The older Wright, senior Connor Wright, finished fifth, with freshman Mihesuah close behind him in seventh.
"Connor wanted to go out a little faster and Brian worked his way up there and had a good race," Spielman said. "Brian was pretty excited to get back out there after not finishing at league."
Senior Canterbury out sprinted two competitors to placed 14th as the Bulldogs' final point scorer Saturday.
"He out kicked two guys at the very end, which helped us as a team," Spielman said. "That's the best he's ever felt at the end."
The final two Bulldogs were sophomore Joey LaBuda (18th) and sophomore Carson Barnes (25th).
It was the first time Baldwin has run on the course near Sandstone Amphitheater and the Kansas Speedway. Although the ground was a bit squishy, Spielman said it was a nice course.
"I thought it was a great course," Spielman said. "We hadn't ever been out there so it's nice to run somewhere new. It was a really well run meet and a nice course to run on."
Now both teams will turn their attention to the state meet Saturday. The boys will race at 9:30 a.m. with the girls to follow at 10:30 a.m. at the Wamego Country Club. Both teams will be aiming to bring home state hardware, especially the coveted state championship.
"I think they have put themselves in a really good spot to do that," Spielman said. "They have done all of the things they need to do. They are staying healthy and working hard in practice."
A year ago the BHS girls won state and the boys placed runner-up. This year, the Bulldogs hope to repeat or improve their team placing. De Soto will be the girls' primary competition, but others could make a run at the title.
"We are two of the top teams, but I think Wamego and Buhler are good teams also," Spielman said. "I don't know if they are quite as deep as us and De Soto right now. You just never know when you get there though."
Mulvane is the returning 4A boys' champion, but Wamego could also make a run at the boys' team title this year, along with Baldwin.
"We know that Mulvane and Wamego are really good teams," Spielman said. "They have both beaten us this year so we have some work ahead of us to try and get them. I think Hiawatha is a pretty good team, too."
If history is any sign of things, Baldwin has placed either first or second on the boys' side every year since 1997.
"There is a little bit of streak going right now," Spielman said. "We will have to run pretty good to be third, but we'll have to run really well if we want to be first or second. That's their goal though, so we'll see what happens."
Results from the state meet can be found online at http://www.usd320.com/HighSchool/Activities/CrossCountry/State.aspx.
Regional results
BHS girls
2. Corinna Papps, 15:49.46
5. Calleigh Durr, 16:23.42
6. Connor Twombly, 16:35.29
8. Elizabeth Sigvaldson, 17:01.66
9. Heather Karlin, 17:04.11
11. Julie Hill, 17:19.86
39. Abi Hartzell, 19:13.32
BHS boys
1. Tony Weiss, 16:48.59
2. Brian Wright, 17:16.19
5. Connor Wright, 17:35.66
7. Tosh Mihesuah, 17:49.78
14. Brad Canterbury, 18:11.45
18. Joey LaBuda, 18:16.96
25. Carson Barnes, 18:40.09