Baldwin City turns out big for advance voting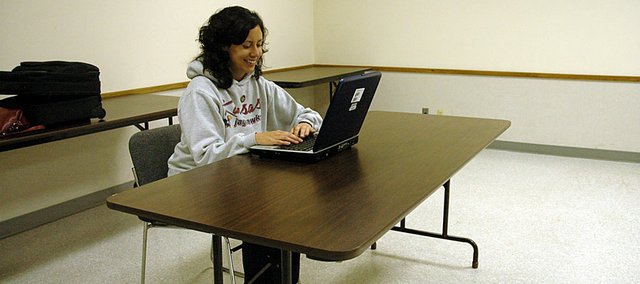 Baldwin City voters responded well at the chance to advance vote for the first time Saturday. Douglas County Clerk Jamie Shew said 248 voters cast ballots at the Baldwin City Public Library.
That total was better than two of the other three advance voting satellite stations in the county and almost as high as Lawrence's turnout. Lawrence had 373 advance voters, Eudora had 115 and Lecompton had 52. That totaled 788 voters.
"That sets a one-day record for advance voting," said Shew. "It was a great day. It was the fruition of three years hard work to get legislation passed to make this happen, so I was very pleased to see this day finally happen.
"For the first time in Douglas County history we had multiple satellite voting locations open," he said. "Almost 1 percent of our voting population took advantage."
The voting booths were brought to Baldwin City Friday afternoon. A computer system was also installed to link the library with similar advance voting stations in Eudora, Lecompton and Lawrence. That's to prevent any possible problems, Shew said.
"We don't want someone voting there (Baldwin City) and then driving up to Eudora and voting again," he said.
Marni Penrod, chief deputy clerk, was involved with the laptop computer test around noon Friday.
"We tested it to make sure this connection would be fast enough," said Penrod.
Voters will also have the option of advance voting again Saturday at the library during the same hours. Shew has said that if response warrants, there may be additional advance voting days.