Weiss leads
BHS

to narrow league victory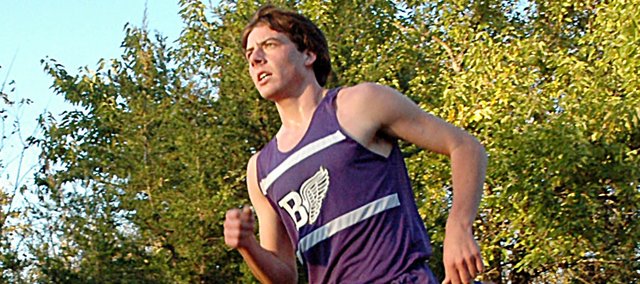 An 11-year streak ended in 2007 but the Baldwin High School boys' cross country team was determined to get its title back here last Thursday.
Baldwin was able to accomplish that goal. BHS won the Frontier League championship by a slim margin over Gardner-Edgerton and De Soto. The Bulldogs scored 51 points, as GEHS had 58 and the Wildcats totaled 60.
"It was pretty important to get that back, because it's a nice streak to have," senior Connor Wright said. "Hopefully, the team can start a new streak next year."
Baldwin captured the league title with one of its top runners not finishing the 5-kilometer course. Freshman Brian Wright went down during the middle of the race and never crossed the line.
"We knew it was going to be close with Brian going down, but it's good to know that we can still be league champs with him going down," sophomore Tony Weiss said. "Tosh (Mihesuah) and Joey (LaBuda) stepped up a lot today. It feels good to start another streak."
BHS coach Mike Spielman realized B. Wright went down during the race and challenged his runners during the last mile. His motivation helped the Bulldogs win their 12th league title in 13 years.
"It was halfway into the race that he went down," Spielman said. "We were in a pretty good battle at that point even with him. We were moving up and the kids went out at the race pace. They were able to stay close and finish the race well.
"It was a great way to win it and that's what it is all about," he said. "When somebody goes down, somebody else has to step up. We've done it before and it helps that we have depth. The kids on the back end were pushing each other and that's what we needed."
Along with winning the team title, BHS also had an individual champion last week. Weiss won his first league title by defeating Gardner-Edgerton's Mitch Loring.
Weiss' time of 16:37 tied the league record for the course previously set by BHS 2002 graduate Matt Noonan. Loring finished 11 seconds behind Weiss.
"I didn't get to see the finish because I was in the back part of the course, but everybody said it was great," Spielman said. "It's a great thing to be league champ as a sophomore and he beat a really good runner. This has helped his confidence a lot, too."
Loring led most of the race by about 50 to 75 meters. With under 400 meters remaining in the race, Weiss flew by Loring as the runners made their way through the crowd.
"He took out pretty fast along with everybody else," Weiss said. "On the last mile I could see him on the straight parts of the course. I just started to move up a little bit at a time and I just gave it all I had for the last 400 meters. It was exciting.
"I was really happy about winning," he said. "I was trying to beat Mitch, because he beat me last year. I knew it was going to be tough, but I'm pretty happy I was able to get that league title."
C. Wright was the second Bulldog to finish the race. He placed fourth in a time of 17:24. A pair of Gardner runners separated him and Weiss. C. Wright is happy about how he is running at this point in the season.
"I feel like I'm running pretty well right now," C. Wright said. "I could race a little smarter and pass a few more people in the last mile."
Baldwin's third runner was freshman Mihesuah. He finished in 12th place in a time of 18:06. Behind him was sophomore Carson Barnes (16th, 18:19), sophomore LaBuda (19th, 18:24) and senior Brad Canterbury (20th, 18:29).
"We had some kids step up all the way through the line up," Spielman said. "Some of those are kind of new to cross country, especially Tosh and Joey. They did a great job and ran well when we needed them to."
C. Wright was also happy about how the younger runners performed last week. He hopes they continue running well for the regional and state meets.
"They are helping a ton, because we are going to need them during the last two meets," C. Wright said. "Those are the most important ones. They should be tapering off to run their best races of the year."
In the junior varsity boys' race, Baldwin had six of the top nine finishers. Junior Josh Hanson won the race as sophomore Kyle Garcia placed runner-up. BHS won the JV boys' team title with 24 points. De Soto was second with 62 points.
Baldwin will run at the Class 4A regional at 4 p.m. Saturday. The meet is being held at Wyandotte County Park, which is off Kansas Highway 7 and is located near Verizon Wireless Amphitheater.
"We still have lots of work ahead of us," Spielman said. "If we can get Brian healthy that will give us another front runner. We are just trying to get better and focus on next Saturday."