Weather shines for festival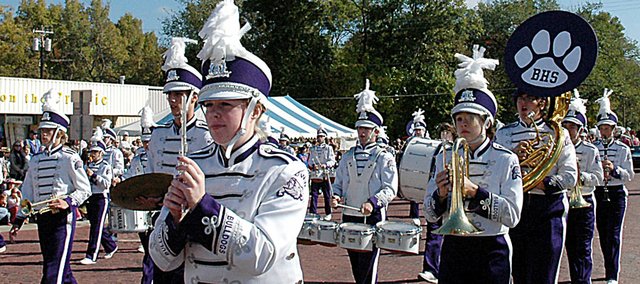 Gorgeous fall weather brought the usual throng of thousands to the 51st annual Maple Leaf Festival Saturday for the parade, crafts booths and, of course, food. A similar day Sunday brought many back for more.
"Of course, the weather was wonderful," said Donna Curran, committee chair of the festival. "It was at times a little windy on Sunday, but we couldn't have asked for better weather."
First-time festival attendee Amy Bures of Shawnee loved the experience as she left on the shuttle bus to the parking area toting a huge container of purple mums Saturday. But it was the weather she enjoyed most with blue skies and temperatures in the mid 60s.
"That was one of the best things about it — the weather," said Bures. "I liked the festival. It was very nice. We came for whatever — food and whatever we could find."
Susie Ross of Mayetta agreed.
"That's why we basically came. The weather was good," said Ross.
Maple Leaf committee members, who work year round to make the fall classic happen, were thrilled to see the crowds yet again. Around 30,000 people usually turn out for the two-day event. This year was no exception.
"I think we've got the same crowd," said committee member Diane Wagner Saturday. "I think it got a late start with the fog this morning on the way from the Kansas City area."
It may have been a later start, but by the time the grand parade — the signature event of Saturday — started at 11 a.m., the usual thousands of people were surrounding the parade route or taking advantage of the smaller crowds around the booths.
The parade lasted under an hour for a change, which was a surprise to many.
"I would have thought it would have been longer with all the political stuff," said Amy Gill of Baldwin City. "I said, 'here comes the horses. Is it done?' They usually come last so they can clean up the poop."
Those booths
The other staples of the event — food and craft booths — were busy throughout the weekend and most were reporting good sales numbers.
"The bird house guy's almost sold out, the cookie guy's almost out," Curran said Saturday. "The food booth lines have been long. Some of the food booths have had to go get more food.
"It's good," she said. "I think it's as big as ever, but it's just a steady flow."
Sandy Cardens, who has been in charge of the booths for years, thought it went well.
"Most of them (vendors) were really happy," said Cardens. "One guy, for example, said he did better Saturday than he'd done all last year. The weather really helped. I think most of them did well. I think they'll be back next year."
The economy had everyone wondering how sales – and the festival – would go. It didn't seem to matter much.
"Several vendors said that they had good sales, but there were just a few that said that sales were down for them," said Curran. "I think that people really had to think about how to spend their money this year. The way the economy is, I was wondering how the festival's sales would be. For some groups in town, this is their only fundraiser."
Ralph DeZago of Harrington has had a jewelry booth at the festival for three years. His sales have been down, but not much.
"I think a little less," said DeZago. "It's not like last year, but it's not like two years ago when it rained. The weather is nice. The economy isn't. What I'm watching is the people go by with bags that have bought things. It's not as many.
"But there's another side," he said. The cost of materials I use are down. I'll come back on this kind of result. I was happy with it. I've got no complaints."
New events
This year's festival had some new to go with the old. The Maple Leaf Festival Scholarship opened events Friday night for the first time since 1991. But, what caught a lot of people's eyes were two white tigers on display by Zoo Dynamics out of Dallas.
"There was a 70-year-old woman who wanted to see the white tigers," said Curran. "She'd always wanted to see one. She cried.
"As for the tigers, I would say 98 percent that I heard was good," she said. "It was once in a lifetime for some to see white tigers. I know we had a few patrons that were not happy about them and I totally respect their views."