Short, but sweet parade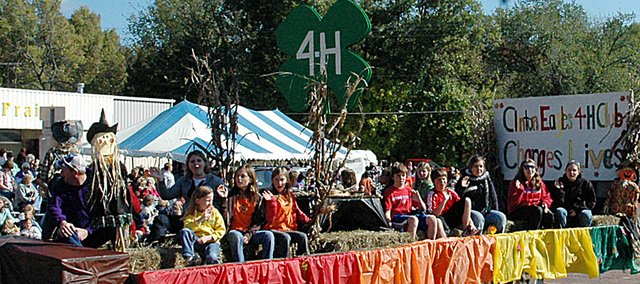 Saturday's 51st annual Maple Leaf Festival grand parade was a bit shorter than usual, but the weather couldn't have been better for the thousands of spectators.
This year's parade only lasted about 45 minutes as opposed to the usual one hour parades that have taken place in previous years. The shorter version came as a surprise to many people, who expected a longer parade because it's an election year.
Could it be a sign of the times as people try to save money in this time of economic hardship? Not according to Sheri Caldwell, MLF parade organizer.
"It was a little bit shorter this year," she said. "I don't think it was a sign of the economy. It's just the way it was this year. I didn't allow a lot of commercial groups or businesses in the parade this year. I wanted to keep it local this year. We did have more animals and politicians this year in the parade."
Caldwell also said there was only one fewer marching band. She said the school that wasn't here as usual had hired a new director this year so things weren't worked out in time to sign up for the festival. The usual school districts, such as Baldwin, Ottawa, Osawatomie and Tonganoxie, were represented by their junior high and high school marching bands.
Despite the slightly shorter parade, the weather was perfect. It was sunny with a high temperature in the 60s for the 11 a.m. parade.
"It was a perfect day," Baldwin City resident Tony Brown said. "We couldn't have dialed up better weather than that. The Maple Leaf committee did a great job of arranging wonderful weather."
This year marked the third consecutive year for the new parade route. The parade travels west down High Street, turns right on Sixth Street and continues heading north to Chapel Street.
"We're still getting used to it," Caldwell said. "It will take some time to get used to it."
The old route turned at Eighth Street, but still went to Chapel. The change has also allowed the MLF committee to have booths down the middle of High Street between Sixth and Eighth streets.
"People are still confused about where it goes, but I think they like it better," Caldwell said. "Everybody can definitely hear better with the new route. The vendors like it better, too, because it diverts the traffic flow for an hour. It all works out in the end.
Brown is one of the locals who has adjusted to the new route and thinks it works better for a couple of reasons.
"Change is always difficult, but as a new route, I think this has some benefits," Brown said. "It doesn't go quite as far down High Street like it used to, but people who aren't interested in the parade can stay downtown and shop at booths during the parade. The slope along the east side of Baker's campus is terrific for people to sit and watch the parade, because it's nice and tiered. People can probably see better since it goes down Sixth Street."
This year's parade theme was "Leaves of Change." The float winner was the Baldwin Junior High School cheerleading float. The Clinton Eagles 4-H group finished runner-up. There was a tie for third place between Rainbow Experience Preschool and the Amazing Tuckleman Brothers.