Lumberyard mess erupts at city council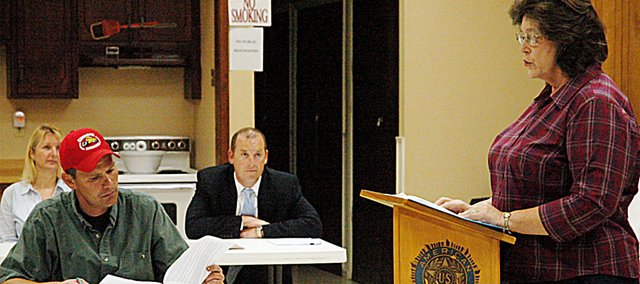 Poor timing on the part of city officials brought an angry crowd to Monday night's Baldwin City Council meeting.
What had their ire was a letter sent to Diane Niehoff, who heads the Lumberyard Arts Center Project, on Thursday, effectively shutting down the lumberyard for planned events, including a music venue for the Maple Leaf Festival.
"We, the Lumberyard Arts Center board members, are here for two reasons," said Niehoff. "First of all, to voice our frustration and concern for the inconsiderate way and timing in which it was conveyed to us that we were not to have the previously planned events to be held in the alleyway of the lumberyard for the Maple Leaf Festival.
"It has been common public knowledge that the community regularly utilizes the space for many community events, and safety of the public has always been a number one priority," she said. "We have liability insurance and have taken every precaution to ensure the safety of those attending any event held there. Board members and volunteers have spent hours in preparation of any event to close off areas that might cause harm to anyone, even before beginning the renovation work."
In the letter to Niehoff, signed by Mayor Gary Walbridge, the city said that once the building permit for renovating the old downtown lumberyard was issued, it wasn't to be occupied by anyone other than work crews. That permit was issued in the spring and several events have been held in the lumberyard since, including the Blues and Barbecue fundraiser the first week of October. (Niehoff outlines the complete timeline in a letter to the editor on page A-5.)
Several members of the Maple Leaf Festival committee also expressed their displeasure. The scheduled Lumberyard Live venue had to be moved to Antiques on the Prairie on Thursday and Friday. And it wasn't just about timing.
"It did not become unsafe that Thursday or two weeks prior to that," said Annie France, a member of the committee. "The safety of the building hadn't changed. The issue is that we have a building downtown that is gaping wide open going through demolition.
"Never once had anyone indicated at any point in time that it would be unsafe for anyone," said France. "You have to wonder was there just a blind eye turned and the city just ignored all of the events that occurred."
Council Member Ken Wagner addressed the concerns raised during public comment session, which normally doesn't draw anyone, much less 20 people as was the case Monday night.
"There are about eight of you that I talked to last Thursday and Friday," said Wagner. "We talked about your displeasure about how things were handled. I don't believe it's any secret that what you said here tonight is a big concern of mine. I've made it known to the council, the mayor, (City Administrator) Jeff (Dingman) and to the city inspection department that we have a degree of incompetence in that area. I think it's an issue that we've got to correct.
"This is your community and we're elected to serve you," said Wagner. These city employees are hired to serve you. I take that very seriously. This is a democracy deal and this is how democracy is supposed to work. This councilman supports the Maple Leaf Festival and the Lumberyard Arts Center."
Jim Niehoff, who is in charge of the construction project, told the council about a situation with Tina Rakes, the building inspector.
"Tina came by before Blues and Barbecue and if she would have told me 'no,' that would have been fine," said J. Niehoff. "She said 'We normally don't let people in there after you get a demolition permit.' My demolition permit was not doing anything to the structure.
"We've had events in there for the last two Maple Leaf Festivals and it was in worse shape than it is now," he said. "I don't care that Maple Leaf wasn't in there, but instead about how it was handled. She never said no. She said she would go back and talk to Jeff (Dingman) and then she'd come back. She never came back. I never saw her for several weeks."
Both committees wanted to hear whether the council supported their efforts. The council confirmed its support and gave the reasoning behind the letter.
"I think the city has always supported the Maple Leaf Festival," said Council Member Ted Brecheisen, Jr. "As for what happened with the Lumberyard Arts Center, the city attorney gave us a letter. I felt that it would have been the city's liability. If someone would have gotten hurt, we would have been liable."
Council President Amy Cleavinger, who was running the meeting in the absence of the mayor, had similar comments.
"I don't know specifically what has been done or said that indicates the city does not support the Maple Leaf Festival or the Lumberyard Arts Center Project," said Cleavinger. "I have a lot of questions about how we got here tonight. No. 1 in my mind is there was a question of safety. I'm sorry, I'm not a structural engineer. Are we putting people at risk? That to me is the bottom line and that's something we need to work with."
The 45-minute discussion ended with a promise from Wagner.
"I'm going to have a meeting with Jeff (Dingman) to have an executive session about individual employees," he said. "There will be more discussion."
(Editor's note: Diane Niehoff's comments -- in their entirety -- are in Thursday's edition of the Signal in the letters to the editor section on the opinion page.)