Passing attack helps Bulldogs thrash
SFT

46-18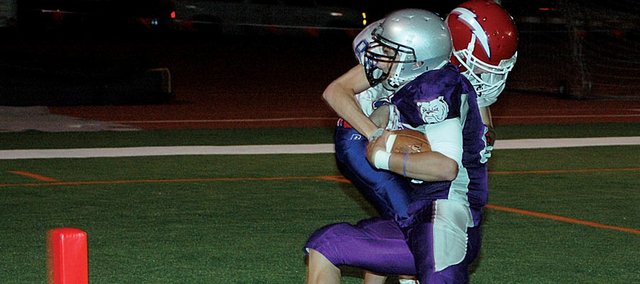 Baldwin High School (6-1) began its district play with a convincing victory over Santa Fe Trail (0-7) at home Friday.
The Bulldogs scored touchdowns on six straight possessions en route to their 46-18 win.
"We kind of started slow tonight, but the kids rallied," coach Mike Berg said. "We were able to throw the ball tonight. That's really nice to help our offensive efficiency."
Baldwin completed a season-high passes in the game — 12 from Sam Beecher.
The BHS senior accounted for six of Baldwin's seven touchdowns. He rushed for four scores and threw a pair of touchdowns to fellow senior Brandon Tommer.
Baldwin took advantage of five Chargers' turnovers. Tommer intercepted two passes and Josh Hoffman intercepted another. David Tuley and Sam Foye each recovered a fumble to help the Bulldogs.
Baldwin will travel to Perry-Lecompton next week for its second district game. The game will begin at 7 p.m. Oct. 24.
There will be a full game story and preview of next week's game in Thursday's Signal.
Scoring summary
SFT — 0 0 0 18 - 18
B — 7 21 12 6 – 46
B — Beecher 4 run (Logan Schiller kick good)
B — Beecher 5 run (Schiller kick)
B — Beecher 9 run (Schiller kick)
B — Brandon Tommer 17 reception from Beecher (Schiller kick)
B — Beecher 11 run (Schiller kick wide right)
B — Tommer 30 reception from Beecher (Beecher run failed)
B — Will Von Bargen 5 run (Heath Parmley run failed)
SFT — Caleb Cook 1 run (Chase McIver kick wide left)
SFT — Cook 5 run (Phoenix Anshutz run failed)
SFT — Cook 52 run