Bulldogs avenge Louisburg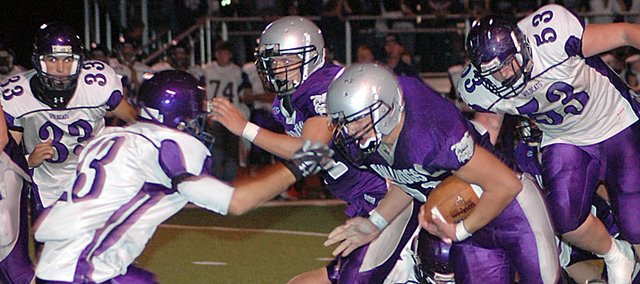 When Louisburg rolled into town Friday night, the Baldwin High School football team was playing for vengeance in the Frontier League contest.
That's exactly what they got.
Two years of frustrations were taken out in 48 minutes of action at Liston Stadium.
"It means a lot, because it's senior night and we've lost to them three straight times in the last two years," senior Brandon Tommer said. "It feels good to finally come out and beat them."
The Bulldogs (5-1) beat the Wildcats (4-2) 20-6 to avenge their two victories over BHS last season. The second of the wins knocked Baldwin out of the state semifinal round of playoffs.
"This is a really nice victory," senior Sam Beecher said. "The coaches didn't really say anything to us, but the players really wanted to get the win for last year's seniors. We really didn't care how we won. We just wanted to win. We had a lot of penalties, but it was nice to come out with a win."
Baldwin was penalized eight times in the game for 75 yards. Five of those were holding calls against BHS. After the game, coach Mike Berg wasn't too worried about the holding calls, but said his team will have to block better.
"We've got to get our hands inside," Berg said. "We're blocking with one hand on the chest and one hand on the shoulder and that's holding. We have to move our feet and get our hands inside. We really haven't had that many penalties until tonight, so I think we'll fix it."
The Bulldogs were able to overcome one of those holding penalties on its first scoring drive. The holding came on a third down in which BHS picked up the first down.
After the 10-yard penalty was assessed, Baldwin aired it out. Seniors Sam Beecher and Clad Kueffer connected on a 34-yard pass. Two plays later, Beecher scampered in from 5 yards out to give BHS a 7-0 lead early in the second quarter.
"We passed a bit, but we try to control the clock with our running game," Tommer said. "I'm cool with it as long as we win."
Tommer caught a pass on the previous drive for 39 yards. Berg said he is trying to work both seniors into the offense more, but the Bulldogs' successful rushing attack has made that process difficult.
"Clad and Brandon are big play receivers," Berg said. "They just go get the ball. We should probably throw to them more, but when you're moving the ball as well as we do on the ground, it's hard to change too much."
Baldwin's ground game took control in the waning moments of the first half. BHS marched 70 yards in eight running plays. Beecher carried the ball four times for 50 yards, while sophomores Josh Hoffman and Landon Ausherman accounted for the 20.
Beecher scored on a 1-yard run on the Bulldogs' fourth-down attempt. He said he was trying to focus on holding the ball after two fumbles last week.
"This week, I really wanted to keep both hands on the ball and get the yardage I could get," Beecher said. "They helped me get a lot of yards because there were some big holes. I didn't get hit a lot until I was in the secondary."
Baldwin again used its powerful rushing attack to score its final touchdown in the third quarter. BHS carried the ball seven times for 67 yards. There was one pass for 5 yards on the drive, but Ausherman finished the drive with a 7-yard run.
"Our offensive line really played with a low pad level tonight," Berg said. "We've been stressing all week to get under their pads and drive our feet. They did a super job and I'm very proud of them."
For most of the game, the Bulldogs' defense shut down the Wildcats' offense. Louisburg only earned six first downs all game, but four of those came on a long drive in the fourth quarter. However, Baldwin held Louisburg on its fourth-down attempt on the drive.
"Our defense is just playing great football right now," Berg said. "Everybody is playing assignment football. They are not trying to be a superstar and making special plays. We are just playing fundamental football, with good technique and not making too many mistakes."
Tommer intercepted a pass with 1:06 left in the game to seal the BHS victory. After the game, he was thrilled with the defensive effort Friday.
"We were just disciplined and did our jobs," Tommer said. "We didn't come out and try to make too big of plays. We just did what we had to do."
Louisburg's only score of the game came in the second quarter. A botched punt by BHS gave LHS the ball at the Baldwin 13-yard line. One play later, the Wildcats scored on a 13-yard pass. Despite the one touchdown, Beecher said the BHS defensive front controlled the game.
"Our defensive line really played well tonight," Beecher said. "Last week we got blown off the ball. This week, the defensive line got penetration and kept Louisburg on their heels. They really just dominated them up front."
Although the victory was sweet for the BHS players, their coach knew they didn't have much time to celebrate.
"I'm just happy for our seniors," Berg said. "We played them twice last year and we weren't able to get a win. That's why they played so hard tonight. They are just so happy right now. I have to try and get them refocused, because we can't dwell on this very long. We have a new season starting tomorrow with district play."
Baldwin will begin its district action against Santa Fe Trail. The game will kick off at 7 p.m. Friday at Liston Stadium.
"It's kind of sad," Tommer said of the final home game. "We just have to keep winning, because maybe we'll play at home in the playoffs."