BU

deja vu
Doerfler kicks winning field goal two straight years to beat Cardinals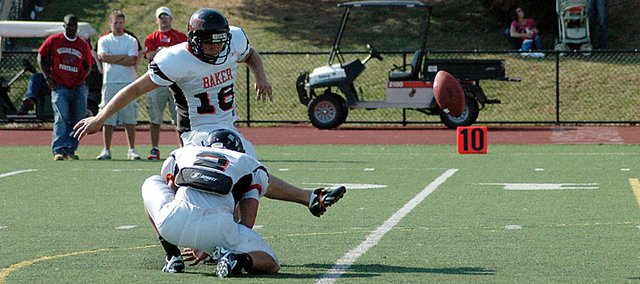 Derek Doerfler had a slight case of déjà vu here Saturday.
Once again his field goal attempt drifted right, before curving back left and through the uprights.
Once again the Baker University kicker boosted the Wildcats in front of their opponents, 31-28, in the final minute of the contest.
Once again, it was the William Jewell Cardinals that were the victims of the National Association of Intercollegiate Athletics All-American.
"Oh yeah, two years in a row with less than 30 seconds left on the clock, there's nothing better," Doerfler said. "It's the perfect situation for a kicker."
Baker (4-2, 4-1) went on to win the contest 38-28 after scoring a defensive touchdown on the game's final play. However, it was Doerfler's kick with 17 seconds remaining that broke the tie.
One difference from a year ago, Doerfler's kick wasn't a school record 62 yards. He only needed to boot a 39-yard field goal to win the game.
"Actually I felt a little more pressure this year, because it was a shorter field goal," Doerfler said. "Last year, it was such a long one I didn't feel much pressure. We got the win both times."
Despite the shorter kick, Doerfler's teammates and coaches still jumped and screamed with excitement as the ball sailed through the uprights.
"Derek has had a tough year," coach Mike Grossner said. "He didn't have a really good day punting, but we trust him in that situation so we put him there. I know he has great confidence and I loved how it ended with him making that kick. It's going to help our team tremendously."
Another difference from last fall's record-breaking kick is that Saturday's winner was his first made field goal of the season. Prior to the game, he missed his previous four attempts of the season.
"We've had some rough times getting it together," Doerfler said. "We finally got it worked out. I needed to get that one off my back and there's no better way to do it."
While Doerfler's field goal gave Baker the lead, the contest wasn't over just yet. On the Cardinals' first play, Baker sacked the quarterback. Baker did the same thing on the next play, but the quarterback fumbled.
Baker sophomore Kyle Weinmaster scooped up the ball and ran into the end zone, ending the Heart of America Athletic Conference game.
"This was a great win," senior Eric Allen said. "We've now done it three years in a row and it feels great."
Allen had a critical interception in the fourth quarter Saturday to help the Wildcats come back from a 21-point deficit. He helped the Baker defense hold the Cardinals to just one touchdown in the game's final 23 minutes.
"We started the game off pretty slow," Allen said. "At halftime, we went in and talked about some stuff. We came out and picked it up in the second half."
After falling behind 21-0 early in the third quarter, Baker's offense was sparked by a 62-yard run by senior Richie Bryant. It was Baker's first play from scrimmage following the William Jewell touchdown. Bryant's score gave Baker its first points of the game.
"We had to have that," Grossner said. "We had to have a quick score," Grossner said. "He banged out a 60-some yard run and we weren't down 21-0 any longer. Staring at that clock when down 21-0 can hurt you."
After the touchdown run by Bryant, the Wildcats' offense began to click. Junior Mack Brown led his team down the field several times during the second half.
He found senior Tyrell Spain on a 39-yard fade pattern for a touchdown to pull Baker within seven points.
"Offensively, we couldn't get in a rhythm at all in the first half," Brown said. "We went into halftime, everybody was confident and cool. We all believe in each other around here so we knew we were gong to come out and play a better half of football."
Allen's interception soon followed a Cardinal touchdown, but he set up the Wildcats. Sophomore Blaine Crow carried the ball in for a 3-yard touchdown to pull Baker to within 28-21.
Baker's defense stepped up and gave its offense the ball back with less than four minutes remaining in the contest. Two plays later, Brown threw a 33-yard strike to senior James Hensley to tie the game.
A couple of minutes later, Baker took control of the ball again in William Jewell territory. The drive ended with Doerfler's game-winning kick. The win was Baker's fourth straight of the season.
"It's always good to win against your rival," Brown said. "To do it this way is even sweeter. The road victory and coming from behind just proves what kind of team we have this year."
Grossner was proud of his players for playing with urgency in the second half, but playing smart at the same time.
"We had an urgency to win this game," Grossner said. "Our will to win was a little bit more than theirs at that point. We just made some big plays down the stretch on both sides of the ball."
The Wildcats will return home this weekend for a HAAC contest against Evangel (3-3, 3-2). The game will begin at 6 p.m. Saturday at Liston Stadium.
"We like playing at home," Grossner said. "It will be a tough game, because Evangel is a tough opponent. It will be the Maple Leaf Festival with a lot of people in town, so we hope to make it a good weekend."