BJHS

teams wrap up successful seasons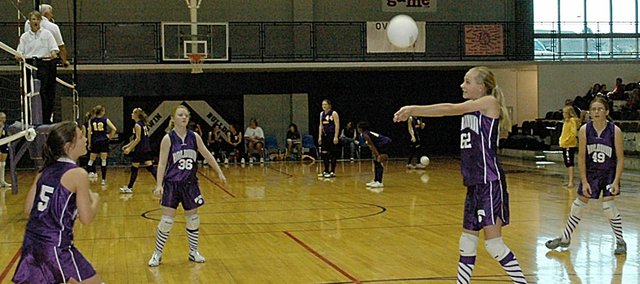 Baldwin Junior High School varsity volleyball teams ended their successful seasons Saturday at their respective Frontier League tournaments.
The eighth grade Bulldogs (16-4) placed second in their tournament, while the seventh graders (20-1) finished third. Both BJHS coaches were proud of their squads.
"We've had a pretty incredible run," eighth grade coach Brenda Shawley said. "Last year, we got second at league and this year, we did, too. We played hard and took Pioneer Ridge to three games."
Marilee Valentine, seventh grade coach, was thrilled to have a 20-1 record.
"To say we had 20 wins is amazing," Valentine said. "With seventh graders, you really have no idea how your season will turn out. Some of these girls have played a lot of volleyball before and it showed."
Her seventh grade squad entered the tournament with a 16-0 record. However, the Bulldogs suffered their only loss of the season in the first game of bracket play Saturday. They lost to Pioneer Ridge (22-25, 25-21, 15-12).
"They were very disappointed," Valentine said. "The Pioneer Ridge coach said that was the best match they've ever played and every player on their team was taller than every player on our team."
The loss shook up the Bulldogs in the beginning of their final match, but they came back to beat Louisburg (17-25, 25-23, 15-10).
"The third-place match was a little shaky," Valentine said. "The first game wasn't pretty, but I think they finally decided it would be a lot more fun to win the match instead of losing it as well."
Valentine credited passing as the key to their successful season.
"They exceeded my expectations," she said. "This season was a lot of fun. They were such a good passing team. It's sort of what carried us along, because we weren't tall or big. They played hard all season."
As for the eighth graders, who entered the tournament with a 13-3 record, they placed second in the tournament for the second straight year.
The Bulldogs won their first three matches over Spring Hill (25-11, 25-15), Paola (25-22, 25-17) and Wheatridge (25-24, 25-19).
"They played their hearts out and I couldn't ask for a better group of kids," Shawley said. "They are a great passing an serving team. Over half of our team served 90 percent or better."
In the championship match, Baldwin came out strong and won the first game 25-24. However, Pioneer Ridge took the next two games (25-15, 15-12).
"Monica Howard brought back a ball from deep, deep on our side of the court," Shawley said. "It barely went over the net. The Pioneer Ridge girl tried to tip it, but it went into the net, so we won 25-24.
"We responded and were up 11-9 in the third game," she said. "We ended up losing another close game, 15-12."
The junior varsity teams finished their seasons last week also. The seventh grade JV team ended up 11-7 while the eighth grade JV squad was 10-9.
The eighth graders will take their two successful seasons at BJHS into Baldwin High School next year. Shawley hopes they continue winning.
"They haven't lost very many matches in junior high, so I'm looking forward to seeing them continue their success over at the high school," she said.