Baker rallies past William Jewell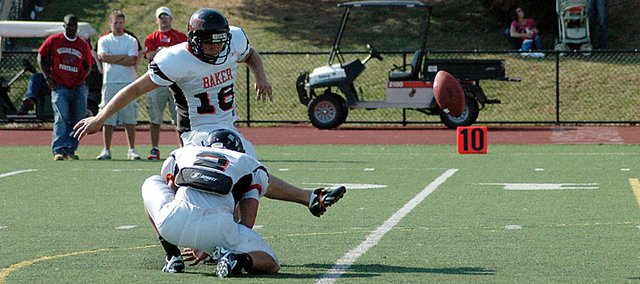 Liberty, Mo. — Baker kicker Derek Doerfler kicked the go-ahead field goal with 17 seconds remaining to lead the Wildcats to a 38-28 victory against William Jewell on Saturday.
It was the second year in a row that Doerfler helped Baker beat their rivals. Last year, he booted a 62-yard field goal to win the game. This year, he only needed a 39-yard kick to win the game.
The Wildcats scored a touchdown on a fumble recovery two plays after the field goal to seal the Heart of America Athletic Conference victory.
Baker was trailing, 21-0, with nine minutes remaining in the third quarter. Then Richie Bryant broke a long run for a score to spark the Wildcats' rally.
Eric Allen had a game-changing interception for the Wildcats, and Bryant rushed for 130 yards and a touchdown. Mack Brown also threw for a pair of touchdowns.
Up next for Baker (4-2) is Evangel at 6 p.m. Saturday in Baldwin City.
There will be a full story with photos in Thursday's Signal.