BHS

avenges 2007 defeats with 20-6 win over Wildcats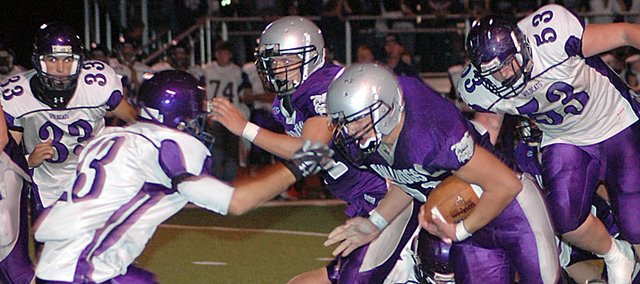 The Bulldogs were out for vengeance Friday night when Louisburg rolled into town — and they got it.
Baldwin High (5-1) beat the Wildcats (4-2) 20-6 to avenge their two victories over BHS last season. The second of the wins knocked Baldwin out of the state semifinal round of playoffs.
"This is a really nice victory," BHS senior Sam Beecher said. "The coaches didn't really say anything to us, but us players really wanted to get the win for last year's seniors. We didn't care how we won. We just wanted to win."
Baldwin held Louisburg to six first downs all game, four of which came on a single drive in the fourth quarter. In comparison, Baldwin earned a dozen first downs, despite eight penalties for 75 yards.
Beecher again led his team on offense. He scored the first two touchdowns of Baldwin. Landon Ausherman scampered in score the final touchdown of the game.
Baldwin will begin district play next week as it hosts Santa Fe Trail for its final home game of the regular season.
Scoring summary
L — 0 6 0 0 - 6
B — 0 13 7 0 – 20
B — Sam Beecher 5 run (Logan Schiller kick good)
L — Chris Cook 13 reception from Kody Cook (C. Cook kick short)
B — Beecher 1 run (Thurlow attempt failed)
B — Landon Ausherman 7 run (Schiller kick good)