Wildcats stomp Graceland to win homecoming 41-3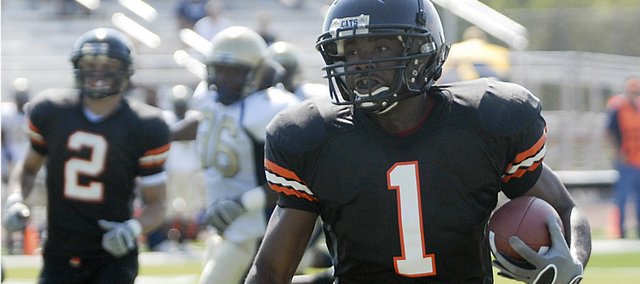 Mike Grossner's back was eased Saturday afternoon.
His infamous "monkey" disappeared at Liston Stadium. During the first four years of his regime, Grossner was winless against Graceland University.
That all ended over the weekend.
Grossner's Baker University football team (3-2) smashed the Yellowjackets (0-5) 41-3 to earn a homecoming victory.
"It's nice to get the monkey off our program's back," Grossner said. "I hadn't beaten Graceland since I've been here. It's a relief. You always want to get that first win against an opponent."
Saturday's win was also the Wildcats' first home victory of the season. On Sept. 20, they nearly beat a top-10 opponent in Lindenwood University, but fell 25-21.
"We feel like we played really well for the first home game, but we let it slip away," Grossner said. "We had a nice homecoming crowd and I think they were pleased after the first quarter."
Baker scored a trio of touchdowns in the first quarter. The first six minutes of the game set the tone for the afternoon in Baldwin City. Baker junior Rodney Harris intercepted Graceland on the first play from scrimmage. He took the pick and ran 26 yards into the end zone.
Later in the quarter, senior Richie Bryant broke a 52-yard run for a touchdown to give Baker a 14-0 lead. Less than a minute later, the Wildcats had the ball again. On the first play, junior Mack Brown threw a pass to Bryant, who ran 54 yards for the score.
"Game wise, we wanted to come out and jump on them," Grossner said. "We did in the first seven seconds. We also scored quick offensively and within the first six minutes, we were up 21-0."
Baker scored again early in the second quarter with another defensive touchdown. Senior Eric Allen intercepted a Yellowjacket pass and sprinted 38 yards for the score.
Graceland's only points of the afternoon came on the final play of the first half. Graceland kicked a 21-yard field goal as time expired, but Grossner said an official's mistake allowed the play to happen.
"That three points shouldn't have happened," Grossner said. "There was a referee problem at the end of the half where the clock got messed up. There was 0.1 second left on the clock and they kicked a field goal. Our defense has great pride in what they do. We gave up some rushing yards that we will have to work on. We did have two interceptions for touchdowns."
Early in the third quarter, Bryant scored his third and final touchdown of the contest. He ran 14 yards into the end zone to give Baker a 34-3 lead. Bryant would sit the rest of the game after the score, but he rushed the ball 15 times for 113 yards.
"Richie had a great day," Grossner said. "He didn't play in the second half. He wanted to go, but I kept him out to keep him healthy. I didn't want something to happen to him."
With a comfortable lead, Grossner rested several players in the second half. Brown sat the fourth quarter after he threw a 53-yard touchdown pass to senior Tyrell Spain to end the third quarter.
"I thought the second half got a little ugly, but after watching tape it wasn't too bad," Grossner said. "We just tried to run the ball and stay healthy."
Spain ended the day with three catches for 87 yards. Junior Brad Fawcett caught four balls for 59 yards. Brown was 12-of-19 for 220 yards.
The Wildcats are 3-1 in the Heart of America Athletic Conference with a game at William Jewell this weekend.
"We let one go, but you can't go back," Grossner said. "We'd love to be 4-0, but we are 3-1. Our destiny is in our hands. We are just focused one game and one half at a time."
The Wildcats and Cardinals kick off at noon Saturday in Liberty, Mo. Grossner is expecting a close contest, based on the previous two years.
"It's a rivalry," he said. "We went to overtime with them two years ago and beat them with a 62-yard field goal last year. It should be a good game."