Big crowd for blues, barbecue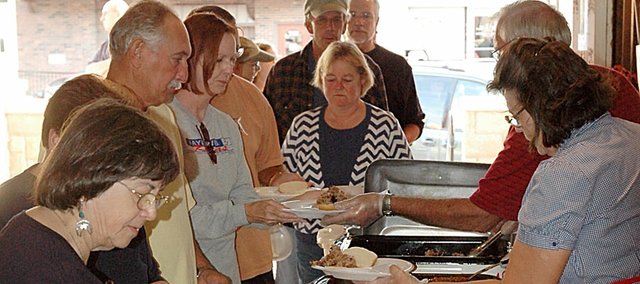 With the blues drifting through the building and the barbecue being savored, the annual fundraiser for the Lumberyard Arts Center was again a success Saturday night.
"Members of the Lumberyard Arts Center board of directors served a hungry crowd of well more than 150 at the fifth annual Blues and Barbecue Saturday," said Diane Niehoff, president of the LAC board. "What started out as a one-time fundraising evening has turned into a regular community event anticipated by many. This year's attendees were entertained by bands sponsored by Heritage Tractor."
The featured bands were "Free Lunch," which has entertained many times in Baldwin City and a new band, "Forecast," which includes Baldwin High School graduate and Baker University student Nathan Deel. Niehoff said the bands performed well.
New to the event this year was a coloring contest for kindergarten through fifth graders. Taking first in the K-second class was Atticus Feldt and Ashlyn Dighans finished second. In the third-fifth division, Sylvie (no last name listed) was first and David Wallace was second. First place gained $15 and second earned $10.
"The contest judges had an arduous task as they sifted through 128 very creative entries to choose just four winners," she said. "Many thanks to those judges, who have chosen to remain anonymous. You may view the entries in the windows of downtown businesses for the next few days."
The fundraiser is one of many over the years to raise money to restore the downtown lumberyard into a home for the arts. Another of those efforts was unveiled Saturday.
"A pattern for brick pavers that will run down the center of the commons area was laid out for all to see and have the opportunity to be a permanent part of Baldwin City history," said Niehoff. "There will be a limited number of engraved pavers available. More information on the program can be found on the Web site at www.lumberyardartscenter.org."