Different kind of course
One-club tournament Sunday to bring spotlight to secret north of town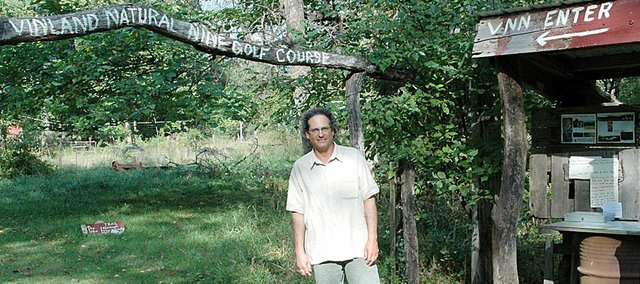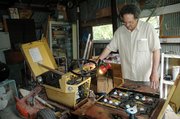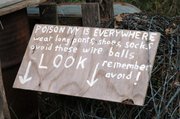 Richard Morantz's golf course requires no golf carts, sand traps or country club memberships.
In fact, his course north of Baldwin City doesn't even require chemicals or anything unnatural. Well, maybe besides a trim-up with his lawnmower once or twice a month.
That's just the way he likes it.
"It's part of who I am," Morantz said. "I eat organic produce. I don't use poison stuff in my house. "I wanted to do it non-toxically. I wouldn't have wanted to do it otherwise. I don't have any inputs. I don't plant anything. I just clean up and leave behind what I want to leave behind."
Along with not using chemicals or poisons on his self-maintained course, called the Vinland Natural Nine, Morantz doesn't require a fee to play. There's just a wooden table where players sign in, pick up a scorecard and leave donations if they wish.
"I don't count how many people have been here and I don't take money," Morantz said. "I let people leave donations in the box at the gate. I don't require anybody to pay anything. I just want people to come play and have fun."
That course will be on display Sunday afternoon. Morantz will be hosting a one-club tournament, which will begin at 1 p.m. There is a $10 suggested donation for the tournament, but no official cost. The Vinland Natural Nine is located at 1780 N. 500 Road. It's just three-quarters of a mile east of Douglas County Road 1055 on North 500 Road, which is at the bottom of Baldwin Hill.
"I don't know how to be ready for Sunday," Morantz said. "I'm doing everything I can think of. I don't know if I'm going to have a dozen people or 100. Somewhere between there would be my guess. I don't need to keep track of who gives me money. There will be a box for donations."
Those who wish to play the course before the tournament or after are always welcome, according to Morantz, even if he isn't there. Sunday's tournament will include prizes from local businesses.
"It's mostly going to be a self-guided thing," Morantz said. "It will be a shotgun start. My guess is everyone will be playing at the same time. It will be fun. I'm hoping some of the local folks come out, play a round and enjoy it."
Why only one club?
"I like the one-club game, because I take the game 150 yards at a time," Morantz said. "We could have a four-club tournament, but I read about this one-club option and decided to do it that way. Also, because this is a different kind of course, I wanted to make it a different kind of game. I did it to simplify the game. Plus having a $300 putter isn't going to help you on these greens."
While Morantz might not look like a professional golfer and his course isn't a country club, remember — looks can be deceiving. The Vinland Natural Nine won't ever be used for a Professional Golfers Association event, but it does present its own challenges.
"The fairways are narrow here, like a Scottish-links golf course," Morantz said. "It doesn't really play well with a big driver, because hitting the ball 250 yards and landing in the fairway is hard for most of us."
Chris Habeger, a Vinland resident and assistant superintendent at the Alvamar Country Club in Lawrence, is also a consultant for Morantz's course. He agreed about the fairways being tight.
"It's absolutely a very challenging course," Haberer said. "You're forced to hit the fairways. If you grew up on this course, you would learn to become a very straight hitter. It's not a forgiving course."
Most golf courses have sand traps and water hazards to increase their difficulty. What his course lacks in those two areas, it more than makes up for in other areas.
Morantz's course has seven holes where the ball must carry at least 40 to 100 yards to reach the fairway. Anything less will result in a lost ball — most of the time. Besides the knee-high rough, the Natural Nine can present problems for the best of golfers.
"I do have hazards," Morantz said. "There are some mole hills and patches of tall grass throughout the course. I used to mow those places, but I found that when I did, the ground would erode. It's sort of like halfway between a water hazard and a sand trap. You can play out of a sand trap, but if your ball goes in the water, you've lost it. You can't really play out of these patches very well, but you haven't lost it."
Fairway vision
Some people might ask how a farmland is turned into a golf course. They obviously haven't seen the 1989 hit "Field of Dreams." Kevin Costner turns an Iowa cornfield into a baseball diamond after hearing voices.
It wasn't voices that Morantz heard. Instead it was a vision that came to him soon after taking ownership of the property nine years ago.
"The first time I did a controlled burn is when I just saw it," Morantz said. "I looked out over the rolling hills and I said to myself, 'that looks like a golf course.'"
The previous owner used the land for grazing cattle, which meant the acres of land were mostly prairie grass and trees weren't a problem. Morantz's idea of a golf course first took shape three years ago when he mowed a fairway with greens at each end. He would play back and forth.
A year later, all nine holes became a reality. This year he has added cups in the greens, because hearing that sound is important to him, as a golfer.
"The first year I just dug holes on the greens," Morantz said. "Then this guy came and played the course. Then the next day, he came and brought me cups. That sound is important, because is signifies that you made it."
Without the use of chemicals, pesticides of fungicides, his maintenance is fairly simple. It's about 15 hours on his riding lawn mower once or twice a month. He is even close to finishing his remodeled 1970s electric riding mower and not using the gasoline-powered one anymore.
"Mowing is 80 or 90 percent of it. I use a pretty small mower, so it takes a lot of time. What that's done is allow me to pay attention to everything. I see things like a local orchid that is blooming that I don't want to mow over."
Not bad for a man who learned the gentleman's game a couple of decades ago.
"I learned to play about 25 years ago when my dad retired and learned to play golf," Morantz said. "We learned together. Since then, I've lived in a lot of places where I was able to set up my own little course."