Bulldogs overcome red zone woes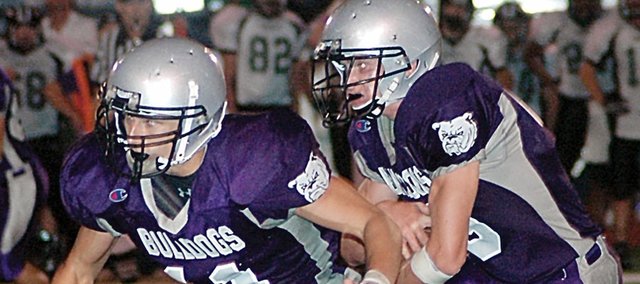 Clad Kueffer and Sam Beecher stood together joking about the Bulldogs' red-zone efficiency.
They compared Baldwin High School's football game to a video game. The one specifically was the NCAA Football game. They joked about what Baldwin's "Old Spice Red Zone Report" might be after its 14-0 victory over De Soto (0-4) Friday night.
"We didn't have problems moving the ball," senior Clad Kueffer said before the pair joked about the Bulldogs' efficiency. "We just kept stalling once we got in the red zone."
If the Bulldogs (3-1) were part of the video game, they would have had a 20-percent efficiency rating. They were one of five inside the Wildcats' 20-yard line with the one drive ending in a one-yard touchdown run by Beecher.
BHS coach Mike Berg credited the Wildcats' defense for playing tough deep in their own territory.
"A lot of that has to do with De Soto's scheme," Berg said. "They did a nice job of scheming us. A couple of times they guessed right and a couple of times it was our miscues or mistakes. It was a well executed defensive game plan on their part."
Besides the offensive struggles in the red zone, the pair of BHS seniors had many reasons to be joking and smiling Friday night. Beecher was once again the Bulldogs' offensive star and Kueffer was crowned king at halftime.
Kueffer and Beecher made up two-thirds of Baldwin's homecoming king candidates with Connor Wright being the other. After the votes were tallied, Kueffer was named 2008 homecoming king with senior Haley Finucane at his side as the homecoming queen.
"It was important that we defended our homecoming and got the win tonight for the fans," Kueffer said. "The game definitely comes first when you're homecoming king. It's really just an honor to be nominated."
Kueffer's fame was short lived between the two friends. Beecher stole the thunder with the second half kickoff.
"It's every player's and coach's dream to open a half with a kickoff return like that," Kueffer said. "It was the perfect way to come out of a bad half."
He burst through one hole, made one move on a defender and was off to the races. No Wildcat caught him as he ran 90 yards to score the first touchdown of the game.
"We didn't plan on that, but we'll take it," Berg said. "It was nice to see our kickoff return team do that for us. Our sideline was different after that touchdown."
Beecher said his return sparked some confidence in his teammates that was much needed.
"It was huge," Beecher said of his touchdown return. "It helped our confidence, because it was 0-0 and we had chances to score in the first half. That was a really big play."
Besides his big return, Beecher also carried the Bulldogs' ground attack. He rushed the ball 29 times for 175 yards. He did have one fumble at De Soto's 5-yard line, but after the game that didn't bother him as much as his 1-for-7 passing.
"It was a really hard-fought game," Beecher said. "Every time we hit the hole, we had to hit it hard, because they were blitzing a lot of linebackers. They were 0-3, but they weren't playing like an 0-3 team, so we had to bring it tonight."
"I'll be honest, I missed quite a few receivers on pass plays and that really hurt us," Beecher said. "The play calling was there and the line blocked well, but I couldn't hit them. I just need to execute the plays that were called better."
Baldwin's defense shut down the Wildcats' offense all night long. They only managed six first downs, punted five times and turned the ball over four times — twice on fumbles.
"We rose to the occasion," Berg said. "We told them they couldn't just fly around. They had to play their assignment, be disciplined and trust their teammates. They played perfect football.
"Our kids will be able to remember this for a long time," Berg said. "A homecoming victory is very nice, especially when you get the goose egg on the board. Our defense just played phenomenal tonight."
Kueffer enjoyed the entire atmosphere Friday night.
"Playing on the turf is a huge advantage for us," Kueffer said. "We're used to it and we love it. Playing under the lights with the home crowd and student section is the kind of environment you want to play around."
Baldwin will have to leave Liston Stadium for one week before returning for two final home games. BHS will play Ottawa at 7 p.m. Friday.