BHS

soccer team avenges previous loss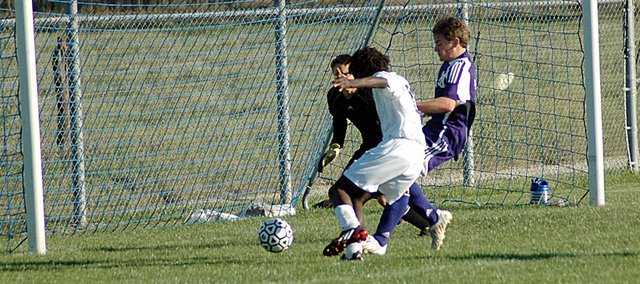 There's nothing quite a like a win to get a team's confidence back.
A victory helps even more when the team previously lost four of its last five games. Add in the mix that the team came out of its offensive funk with a trio of goals and Baldwin High School soccer coach Matt McCune was smiling Tuesday evening.
His Bulldogs avenged a previous 3-0 loss at Spring Hill with a 3-1 victory at home.
"We have improved big time since last time we played Spring Hill," McCune said. "We are learning every game about somebody different."
Home wasn't the BHS soccer field this week. It was north of there by 100 feet. The Bulldogs played on Baker University's North Park field, because of damage to the BHS field last week.
"We've been playing on really bad grass fields and turf, so it's interesting to play on a normal field for once," senior Colin Busby said. "It was a nice win for us, because we lost to them 3-0 at their place. It felt good to get another win after losing to good teams like De Soto and Ottawa."
Busby scored the first of Baldwin's three goals Tuesday. His came during the middle of the first half. That early 1-0 lead boosted the Bulldogs' confidence, according to Busby.
"We were sort of holding our breath, because we lost to them last time," Busby said. "It was nice to get that first goal."
The Broncos tied the game at 1-1 shortly before halftime. Their goal came on a penalty kick after a BHS player was called for a hand ball in the penalty box.
Baldwin sealed the game late in the second half with a pair of goals. The first came with about 10 minutes remaining. Freshman Shawn Berndt used his speed to sprint past a defender and sneak the ball past the Broncos' goalkeeper.
"We mixed things up with the lineup a bit," McCune said. "We put some young talent up front that is a little speedier and a little craftier. It's a little different with Caleb and Shawn up front. Teams are more worried about Shawn up there because of his speed."
The final goal of the night was a first for one BHS player. Sophomore Joey Cool scored his first varsity goal on a corner kick to seal Baldwin's win.
"It felt amazing," Cool said. "I've waited so long for that. The ball just deflected off Shawn a bit and I just tapped it in."
McCune was thrilled to see his team score on a corner kick, because it worked on those situations Monday afternoon.
"Last night we worked on corner kicks," McCune said. "We kicked about 50 of them, so it's nice to score on one of them. We had a lot of chances to score more. If you take away their PK, they didn't really have anything. I'm still more worried about defense than offense, because offense will come."
Baldwin travels to Paola to play at 4 p.m. today. On Tuesday, the Bulldogs will host Ottawa at 4 p.m.