Wildcats make school history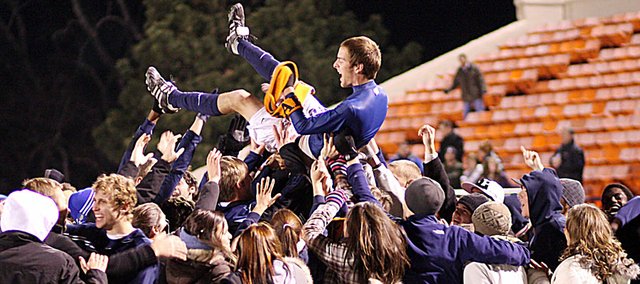 It only took Matt Germain 34 seconds to lift his Baker University men's soccer team to victory Saturday.
Of course, that was after the Wildcats dueled Park University for 90 minutes of scoreless soccer at Liston Stadium. Less than a minute into the overtime period, the Baker junior booted the winning goal.
Baker defeated Park 1-0 in the opening round of the National Association of Intercollegiate Athletics Men's Soccer National Championship. It marked Baker's first victory in four national tournament appearances.
"It was exciting," Baker coach Nate Houser said. "Anytime you get to go somewhere the program hasn't been before, I think everyone enjoys themselves. This is a fun time for us right now. We've grown so much mentally and emotionally this season that Saturday's game was the perfect way for them to take a big step forward."
The Wildcats had several chances to take a lead earlier in the contest. During the opening minutes, Baker missed two shots that might have won the game in regulation. Despite missing those chances, the Wildcats continued to play strong and their coach was proud of them for their effort.
"We missed two very good chances in the penalty area within the first five minutes," Houser said. "We missed a penalty kick and the big statement was after missing that, we didn't hang our heads. We just kept going and kept playing. In the second half, we came out strong and were on top of them."
Baker was solid defensively all game long. Sophomore Alex Burton recorded one save in the victory for Baker's 11th shutout of the season.
"Those guys, the goal keeper and the back six guys, were tremendous," Houser said. "That's probably the best game they've played as a group all season. Individually, they've each taken steps forward in games, but as a group, this game was tremendous."
The two teams had played to a 0-0 tie six weeks earlier on the same field. Since then, the Wildcats won the Heart of America Athletic Conference tournament championship with a 4-2 victory over Graceland University on Nov. 15.
"I think they got the monkey off their back with the conference championship win," Houser said. "We were fortunate to play Park again, because it gave us someone we are fairly familiar with and we have some confidence facing. From how the game went last time, I think the guys felt they could get the job done Saturday.
"I think you just saw a culmination of that belief and the chance to be a team that travels to the final 16," he said. "Plus, this helps assure them of all the hard work and passion they've put into this sport."
The No. 21-ranked Wildcats (14-6-2), the HAAC tournament champions, will play Westmont College, a 3-2 double-overtime winner over Holy Names, at 4:30 p.m., Dec. 2, in Fresno, Calif. A total of 16 teams remain in the national tournament.
"They are going to be a lot like the Azusa Pacific team we played," Houser said. "They are coached by the brother of the Azusa coach. They have always been a really strong team. They beat Azusa in their conference championship, so it will be fun."