Volunteers assemble FireTree playground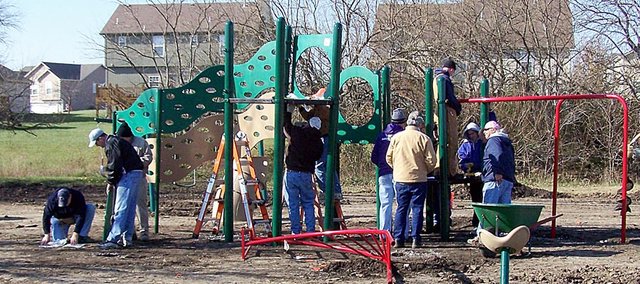 Thanks to 24 warmly dressed Baldwin City volunteers, a neighborhood of children will soon be able to enjoy swings and slides just a block or two from their homes.
At 8 a.m. Saturday, the group of community volunteers began working on constructing a new playground. Eight hours later, the FireTree Estates subdivision was the recipient of a community gift.
"It was a neat community project," said Susan England, one of the volunteers who helped build the playground. "It was nice to have different people come out and help. Everybody did a great job and it went together much faster than expected. The sun was shining, but it was a little breezy Saturday. It wasn't awful, but it was windy enough to be cold."
Another one of the volunteers who endured the chilly temperatures was Ken Wagner, Baldwin City Councilman. Wagner helped all day at the site and was proud to be a part of the community-wide project.
"The whole day went really smooth," Wagner said. "It was a lot of fun to work with Baldwin City people. It was a team type of build and it was something for the good of the community. Quite frankly, it was a lot of fun, too. Plus we didn't have any bumps, bruises or scrapes."
The Baldwin City Recreation Commission coordinated the project and volunteers. Steve Friend, BCRC director, and Dana Rockers, BCRC operations supervisor, were both on hand Saturday. The Baldwin City Lions Club also had several volunteers to help, along with the handful of FireTree neighborhood parents.
"The recreation commission and Steve Friend did a great job of coordinating all of this," Wagner said. "This neighborhood now has a nice area for children to enjoy. It's a playground that kids can access safely and not cross the highway."
Although the equipment was assembled Saturday, the playground is not open for use just yet. Concrete was supposed to be poured earlier this week to support the equipment. The other last-minute detail is the mulch that needs to be spread over the playground. Wagner said he hopes it's open for use by this weekend.
He also said a picnic pavilion and off-street parking are scheduled to be added to the area later, when funds are available. The estimated cost for the parking lot is $22,000, but only $2,600 for the picnic pavilion.
The city council approved the playground equipment at its Oct. 20 meeting. It cost $35,775, but the labor was free since it was all volunteer help.