Tweak your Thanksgiving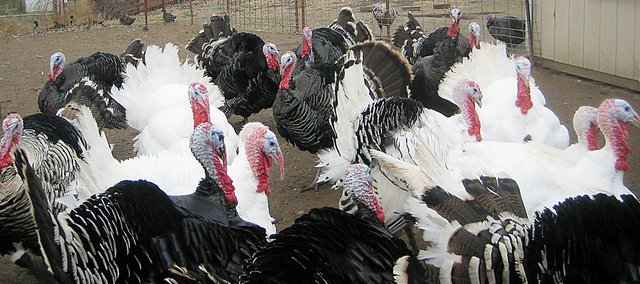 Thanksgiving Day is a holiday famous for combining family, football — and calories.
Dietitians recommend a daily calorie intake of about 2,000 calories but on one Thursday in late November, many Americans disregard that rule.
"People don't think about how much they're eating, but it could be anywhere from 1,500 to 3,000 calories in that one meal," said Cass Ryan, a registered clinical dietitian at Lawrence Memorial Hospital.
Some avid turkey eaters said thinking about what's in today's holiday meal is completely out of the question.
"I just gorge," said John Wigen-Toccalino, a Lawrence resident. "I eat as much as I can."
But those who do care should remember: The turkey isn't to blame for the extra calories.
"It's the gravy that we put on it," Ryan said. "The vegetables are great except that we make them very, very rich. Green beans, but it has to be green bean casserole. Sweet potatoes, but it has to be sweet potato casserole. So it's all the things that we do to make them special that adds all the calories."
Many people are not aware of the amount of food they consume at a traditional Thanksgiving dinner.
"Everyone has their favorite foods there, people have brought certain dishes, and food symbolizes love and that you care for that person," Ryan said. "You feel obligated to eat everything that's put in front of you."
This obligation, she said, goes back to childhood when everyone was forced to clear a plate, eat large portions and eat second servings.
For people who want to prepare a health-conscious turkey dinner with savory sides, consider recipes with less fat, sugar, and calories or substitute ingredients. Offer plain vegetables and desserts to give guests options for healthier choices.
The word "fresh" also should be kept in mind. Try to avoid foods prepared with a lot of additional salt — stuffing mix, jellied cranberry sauce and instant mashed potatoes.
If you want to eat healthier today, Ryan said, it is important to eat throughout the day but save room for dinner. Look at everything that is offered during the feast and only eat what you think is necessary to make it the ultimate meal.
Ryan said half of your plate should be filled with vegetables, and the other half should feature a portion of meat the size of a deck of cards and starches.
Rather than hover around the food table, grabbing seconds or thirds, Ryan suggests taking a walk, watching football or chatting with family and friends.
It's hard for people to control themselves and follow diet rules, Ryan said. That's why she believes people should thinking about maintaining their weight now so once the holiday season is over they don't have to make New Year's resolutions to lose weight.
And true fans of the holiday believe that indulging once a year can't really hurt.
"You only do Thanksgiving once a year, so you might as well go for the whole thing," said Maureen Wustefeld, a Lawrence resident. "Everybody can go back on their diets after Thanksgiving."