Winter sports begin practices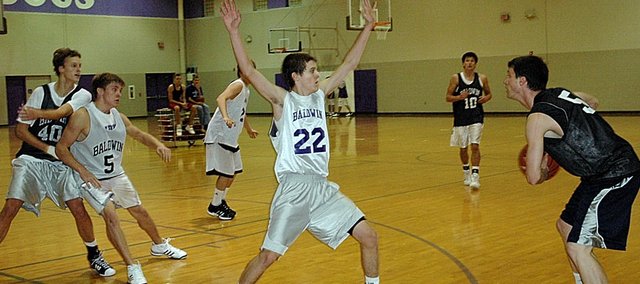 It's official now. The football pads are off, soccer balls are in storage and there are no more high school runners jogging around town.
Baldwin High School athletes have moved inside. They are staying warm in gymnasiums, hitting the hardwood or grappling on the mats. Yes, the winter sports' season is already here for the Bulldogs.
On Monday, the BHS boys' basketball, girls' basketball and wrestling teams started their seasons with the first official practices of the season. As with the beginning of every season, the coaches focus on fundamentals and conditioning during the first week.
"The goal this week is to get in shape," BHS girls' basketball coach Bob Martin said. "We are working on getting them conditioned. We also want to get them used to playing and handling a basketball again."
The same can be said for the wrestling team, but instead coach Kit Harris wants his Bulldogs to get back to the mat after a nine-month layoff since last year's season ended.
"I am excited about the wrestling season," Harris said. "This year will be very different. We have a lot of kids who I have seen glimpses of being very good, but now are working at being consistent with that level of wrestling. We have a lot of youth and experience in our starting lineup, which is fine. Young kids have to go through their 'inexperienced' year to get to an 'experienced' year."
Sophomore Justin Vander Tuig has enjoyed the first days of basketball practice. He even said the conditioning has been tolerable in the early going.
"The first couple of days have been more running than normal, hopefully," Vander Tuig said. "The coaches are just getting us into game shape and it's for the good of the team."
The BHS boys' basketball team might have the most promise coming into this winter season. The Bulldogs return a handful of players and a trio of starters from last year's team that went 17-5. A year ago, BHS's season ended on a buzzer-beater in the semifinal round of sub-state.
This year, senior Clad Kueffer, senior Brandon Tommer and Vander Tuig should lead the squad. The Bulldogs will also have a new face this year, junior Zach Wright, a transfer from Wellsville.
"I'm excited to be back into basketball season," Vander Tuig said. "The coaches are getting us worked back into shape and I'm excited about the games coming up in a few weeks. We're hoping for a pretty solid season. We'll go out there and work our hardest every game and, God willing, we'll have a great season."
The boys' squad isn't the only BHS team to return a handful of players, including starters, from a year ago. The BHS girls' basketball team will be led by senior Tracie Weege, senior Clare Miles and several others. Many of the girls played a number of games in summer leagues and camps.
"There has been a lot of carry-over from last year and from the summer," Martin said. "I think that will help a lot and we'll be able to pick up things really quickly."
The Bulldogs will also be looking for production from some juniors and sophomores this season. Sophomore Ramie Burkhart began contributing late in the Bulldogs' season a year ago. She has enjoyed the beginning of this year and hopes for a successful campaign.
"Practice is good so far," Burkhart said. "It's exciting to start playing again and, hopefully, we'll be good this year. I think we'll come together as a team nicely. The conditioning hasn't been too bad yet, but we're getting in shape."
Martin has especially enjoyed his players' attitudes at practice this week.
"The enthusiasm has been good and the girls have been working pretty hard," Martin said. "Like I told them today, we had a lot of enthusiasm yesterday but not a lot of execution. It was a whole lot better today and it will get better as we go and get into the swing of things."
While the basketball teams have many returners, the BHS wrestling squad only has one state placer coming back from a year ago. Senior Alan Callahan is a two-time state placer for the Bulldogs and Harris will be looking to him for senior leadership.
"Alan is certainly our most accomplished wrestler and a great leader," Harris said. "But we will also get great leadership from our other seniors, Nick Barkley, Colin Busby and Andy Thurlow. Juniors Josh Hanson and Heath Parmley have been league placers, as well as sophomore Colby Soden. We have four sophomores who competed at Fargo this summer and were exposed to high-level wrestling and training."
The BHS wrestling team is the first squad to begin competition as it travels to Gardner on Dec. 6. The varsity basketball teams will start on Dec. 9.