Light Parade set for Nov. 29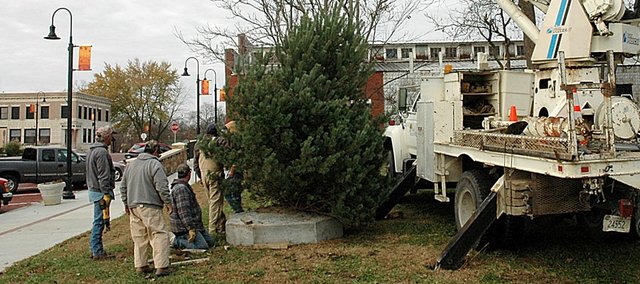 Baldwin City Chamber of Commerce members are hoping to avoid a repeat of last year as far as the annual Light Parade is concerned.
A year ago, ice covered the streets of Baldwin City before the parade, causing it to be canceled. While the weather is unpredictable for the Nov. 29 event, the chamber did move the parade a week earlier, which could help avoid Mother Nature.
"Hopefully, it's better than last year," said Susan Baker, BCCC office manager. "Last year we had ice and we canceled it. We had Santa come into the Lumberyard the following week, but it was still frigid then."
The parade will begin at 6 p.m. Nov. 29 from the corner of Eighth and Chapel streets. It will travel south down Eighth Street and turn east on High Street for one-half block and finish at the community Christmas tree.
In past years, the parade has taken place on the first Sunday in December, along with Baker University's Vespers programs. This year, the parade was moved for other reasons.
"It used to be on a Sunday night and since the next day is a school day, we felt we wanted to move it to a Saturday so families could come and stay as long as they wanted without worrying about getting their kids home," Baker said. "Plus, Lawrence and Ottawa have their parade on the first Saturday in December. Wellsville has a celebration on the first Saturday, too. Then if you start going to the second Saturday in December, it's getting a little late. So we wanted to give this a try. We'll get a jump start on the other communities."
Baldwin High School's band and choir will be entering the parade this year. Baker said there are three other entries so far, but she knows of more that will be coming. She also said anyone is welcome to enter the annual parade, but there is only one necessity.
"The only requirement is to have lights, whether you are walking or riding," Baker said. "We've been encouraged by the people who have already responded to us about the parade. We are hoping more groups that would like to join us, do so."
Anyone interested in entering can pick up an entry form at the chamber office or online at www.baldwincitychamber.com. There will be monetary prizes for the top three entries.
This year's grand marshals are Bill and Sha Harmon. They will lead the parade through Baldwin City.
"They were chosen for their work with the chamber over the years," Baker said. "Bill was president for a number of years. He is also very dedicated to the community."
Bringing up the rear of the parade will be, as always, Santa Claus. He will come riding one of the Baldwin City fire trucks. Santa will stop, choose one lucky child and light the Christmas tree.
The Baldwin Dance Academy will perform near the intersection of Eighth and High streets. Victorian Carolers will be singing around downtown from 4 p.m. to 6 p.m.
"We hope everybody will come down and see the lights," Baker said. "They can also see the new downtown, if they haven't already."
The holiday season in Baldwin officially kicked off last Thursday with the Holiday Hoopla. The chamber sponsored the event to promote downtown businesses. There was a Baldwin Iditarod contest that evening with four winners. They were Lloyd Lam, Maria Sanden, Wyatt Slavin and Ava and Gabi Huntoon. They each won $50 in Baldwin Bucks.
The annual scavenger hunt also started last week. There were 20 kits sold that night, but anyone wanting to enter can buy one for $5 at Santa Fe Market.