Golf course raises ire at council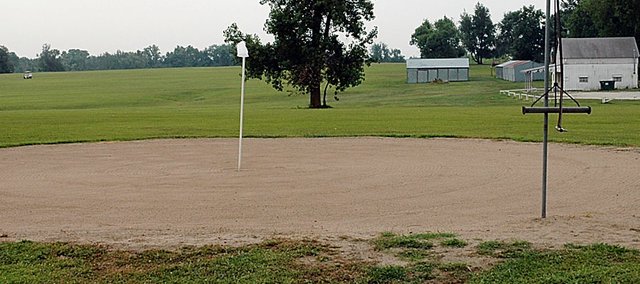 A heated discussion once again took place as the Baldwin City Council had its annual review of the lease for the Baldwin City Municipal Golf Course.
The Chappell property was purchased four years ago for $550,000 by the city. It was bought with the idea of turning the area into a recreation area for everyone. So far, it's continued as a nine-hole, sand-green golf course.
A committee has recently been formed to come up with ideas on what to do with the land, such as adding walking trails, but that process will take awhile. In the meantime, the city continues to lease it to the Baldwin Golf Course Association and that lease is reviewed every year.
Council Member Ted Brecheisen Jr. always asks for more than a year's lease so the association can know how to plan, including for the purchase of maintenance equipment. That always starts a heated discussion about lack of progress on the land. It also points to the reason the lease is reviewed yearly.
"It forces us to have this discussion every year," said Council Member Tony Brown. "The ball is rolling now, but we need time. As it is now, the longer these one-year leases go on, the more embarrassing it becomes to let the public know that we've been setting on this land for four years."
City Administrator Jeff Dingman started the discussion by recommending that the least be extended. He also detailed the efforts that have finally gotten underway to determine other uses of the property. That's when Brecheisen jumped in and Council President Amy Cleavinger responded.
"I've said this before, we'd like to have a couple three years (for the lease) because of equipment purchases," said Brecheisen. "I don't see anything happening with this (land) for a couple three years. If we had longer, we could get more people involved.
"The thing is we've got some old equipment," he said. "If we knew we'd have a couple three years, we could get some equipment. With a one-year agreement, we can't do that."
The age-old argument didn't set well with Cleavinger.
"I'm not sure why this is a surprise because when we decided to do this, this is how we decided to do it," she said. "I don't know why this is a surprise."
"If it was baseball fields, you'd get them done tomorrow," said Brecheisen.
"I am tired of hearing that every time," said Cleavinger. "We are not building baseball fields out there. I don't know why this is a surprise every year. It's been four years and we haven't done anything with it."
Council Member Doyle Jardon then made the motion for the one-year lease.
"It's not that the council is anti-golf or anti-golf association," said Jardon. "We did purchase this and it wasn't just for golf, it was for recreation. Now we're getting closer to getting something done out there."
Cleavinger agreed.
"I'd be happy to clarify that once again, I am not anti-golf," she said. "This committee is not anti-golf. What I am in favor of is providing recreational opportunities for as many of our citizens as possible, in whatever form that may take. If that means horseshoes and Frisbee golf, fantastic. I'm in favor of holding up our end of the deal."
In the only other business item from the meeting, the council decided to table an item regarding increasing water rates. Brecheisen and Jardon, both members of the utility committee, made the suggestion.
"I myself would like to table this this week so the utility committee can meet on it again," said Brecheisen.
"We've had a lot issues go on that day and we'd like to go over it in the utility committee again," said Jardon. "The utility is a touchy subject."
The city council will meet again on Dec. 1.