Baker to square off with
NAIA

's top scoring team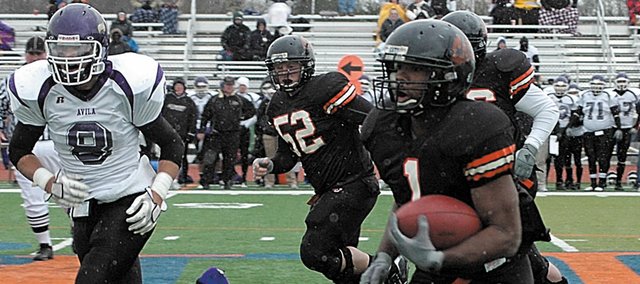 It's been 15 years since Baker University has qualified for the National Association of Intercollegiate Athletics Football Championship Series.
Legendary coach Charlie Richard was running the Wildcats' regime in 1993. Now, in 2008, Mike Grossner is at the helm. In his fifth year, Grossner has his Wildcats (8-3) headed to the 16-team playoffs.
His No. 13-ranked Wildcats begin their quest for a national championship at 1 p.m. Saturday in Sioux City, Iowa, as they take on No. 6 Morningside College (10-1).
"We're happy to keep our season alive," Grossner said. "This team deserves to be playing. We just played for a conference championship two weeks ago and didn't get it. We got a win Saturday and things fell for us. Now everybody is 0-0 and there are only eight games going on this weekend."
The Morningside Mustangs are led offensively by Ian Gilworth, a 6-foot-3, 210-pound senior quarterback from Unionville, Mo. He is the NAIA national leader in passing efficiency with a rating of 182.3. He has completed 171 of 265 pass attempts (64.5 percent) for 2,426 yards and 34 touchdowns. He has thrown only two interceptions all season.
"They have a good quarterback that makes them go," Grossner said. "He's a good player and very efficient. He's thrown more than 30 touchdowns and two interceptions. He throws it well and has a couple of threats on the outside. They also have a good offensive line protecting him."
The Mustangs lead the NAIA in points per game, averaging 49.9 points per contest. Grossner said he saw on film that Gilworth is their main offense threat, but they can also run the ball effectively.
"They run it to keep you honest," Grossner said. "Every team that I've seen can run it and be successful."
Along with scoring nearly 50 points a game, the Mustangs also allow opponents an average of only 10 points per contest. They have pitched two shut outs and held six teams under 10 points.
"They are ranked high in scoring defense," Grossner said. "Their front seven is good and they play good team defense. They have a cornerback who is near the top of the country in interceptions."
One aspect of the game Baker does have an edge in is turnover margin. The Wildcats average a plus 2.2 in turnovers this season. That leads the nation.
"We don't turn the ball over on offense and we take it away on defense," Grossner said. "We are first in the country and they are second in turnover margin. To me, it's probably going to come down to that or we'll neutralize each other."
The Wildcats turnover margin is due in part to junior quarterback Mack Brown's efficiency. Brown has only thrown six interceptions in the Wildcats' 11 games. Baker is also led offensively by junior Richie Bryant, the Heart of America Athletic Conference's leading rusher.
Baker also has All-American kicker, junior Derek Doerfler, on its side. However, Morningside has an all-conference kicker in C.J. Gradoville.
"They have a very good kicker, too," Grossner said. "He's a first-team all-conference kicker. He's good. I think we match up well there."
The forecast for Sioux City is calling for a high temperature of 41 degrees on Saturday. This will be the Wildcats' third straight cold game. Grossner said he'd rather have warm temperatures, but his team will be ready for the cold once again.
"It's supposed to be cold again," Grossner said. "We don't like it, but there's nothing we can do. We are a very athletic football team and would like warm weather to utilize some of our speed. We'll play in anything. They have turf, too, which is nice."