What's next for bond issue?
Baldwin Board of Education discusses next steps for $22.9 million bond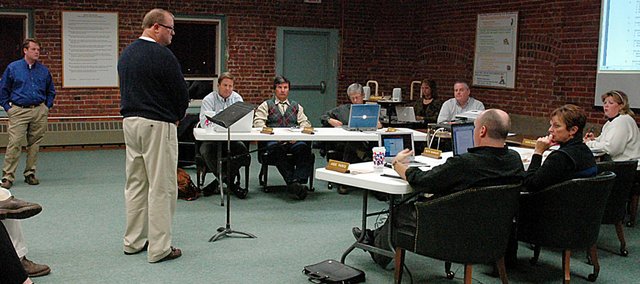 It was only six days after the Baldwin School District's $22.9 million bond issue passed, but congratulatory comments were coming in from nearly everyone at Monday's Baldwin School Board meeting.
All of the parties associated with the bond issue and the upcoming projects attended the meeting. They expressed their feelings about the bond issue passing and how they were ready to get started.
"Once again, congrats on passing your bond issue," said Tom Manning of Manning Construction. "We're ready to go and anxious to get started."
A similar message came from DLR Group architect Andy Anderson.
"We're very excited to get started and pleased to be working with you," Anderson said. "Once again, congratulations on passing this bond issue."
After all of the congratulations were done, it was time for the parties to get down to business. The main topic — what's next to do?
Anderson briefly outlined the plan, which would first involve a steering committee for the new Baldwin Elementary School Primary Center/Early Childhood Center. He said that building will take the longest to design and construct.
He also said DLR will be needing help from the district and the school board for its committee. That group will be making the choices about the design of the building.
"We've got to get the correct people together to help make decisions about how this process is going to proceed from this point forward," Supt. Paul Dorathy said. "We're in what is called the design phase now, which means going through and deciding what all of these facilities will look like, how we're going to do that and what timeline it will take to accomplish that.
"We will be meeting with the architect firm, some board members, myself, some administrators, teachers and probably some patrons," he said. "We will get all of them together and talk about how this will proceed forward."
The design phase, which usually takes around six to nine months, could be shortened significantly, according to Anderson. He said the committee could choose to use a design that DLR has used for another school, but tweak it slightly to fit the needs of this district. If that happens, he said the design time and money would both decrease significantly, which would in turn get the project started sooner and give it a better chance of being completed in the summer of 2010.
"John (McArthur, financial advisor for the district) was right when he said the quicker we can get this thing started, the better off we will be," Manning said. "Two of the biggest things that drive cost are the price of steel and oil, and we know the price of oil has dropped recently."
Other projects in the bond issue include the $3.7 million performing arts center, $2.8 million for baseball and softball fields and a practice track and $1.2 million for renovations to Baldwin Junior High School. There is also $500,000 in the bond issue for technology upgrades.
Dorathy said some of those items will be starting shortly, while others have to wait until after the school year finishes in May.
"The renovations at the junior high will have to wait until school is out," Dorathy said. "We can't have them working while students and staff members are in there. I would guess that you would see the technology piece of this happening really quickly. I think the baseball and softball fields will also happen quickly. I think a lot of this will be getting started in the late spring. That's when I think people will see a lot of dirt work and site work happening. A lot of that depends on the weather."
Although the only topic at Monday's meeting was the bond issue and what will happen with it, Dorathy also said the bond issue's approval will mean good things for the district's capital outlay fund. He said the district will now begin to purchase buses and take care of maintenance issues.
"We went into a holding pattern for a while with our capital outlay fund," Dorathy said. "We have been able to accomplish a number of things this fall, but we were kind of looking at how we would reallocate our funds if the bond issue didn't pass. Since the bond issue has passed, we will be able to stick with our planned budget.
"We've got some buses we are wanting to purchase, so hopefully we can take care of that shortly after the first of the year," he said. "We also want to take care of some technology items pretty quickly. We have a lot of concrete work that needs to be done. We are hopeful that we can start catching up on some things that have been deferred for a while."