BJHS

wrestlers ready for league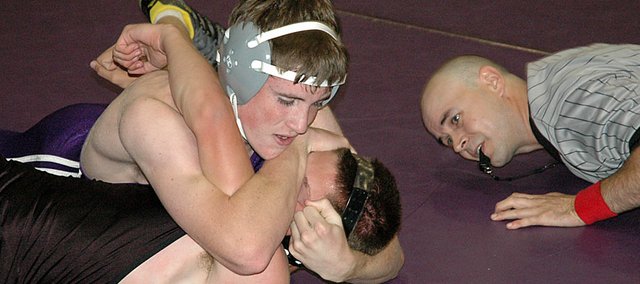 Baldwin Junior High School wrestlers don't have much time to get better as their season progresses, but they are making the most of it.
They are only allocated three weeks to their season. During those three weeks, the Bulldogs fit in six meets. The final one of those is Saturday. The Frontier League meet will begin at 9 a.m. in Paola.
"It's a really short season," coach Kit Harris said. "I wish it could be a little bit longer. A lot of schools go through November and I wish we were able to do that."
The Bulldogs had their most successful meet of the season last Saturday at Emporia. BJHS won its first-ever tournament by winning the Emporia Middle School Tournament.
Baldwin scored 183 team points to defeat six other teams. Ottawa placed second with 159 points, while Emporia finished third with 137.
"It was exciting, because I had no idea how we would do," Harris said. "Some of the bigger schools, like Emporia and Ottawa, had a lot bigger numbers, but we had 17 of 20 guys place. It was pretty cool, because everybody contributed."
A total of 17 Bulldogs placed in the top four of their weight classes. BJHS had seven wrestlers win their division, which was more than any other school.
The Bulldogs who won their weight classes were Tucker Clark, Cameron Christian, Riley Thomas, Thomas Von Bargen, Ben Growcock, Sam Tuckfield and Austin Kraus. A trio of the Bulldogs finished runners-up and they were Luke Fursman, Colton Horne and Josh Behrend.
The four Bulldogs who placed third were Derick Jaroscak, Carter Sudja, Ethan Beeman and Jason Von Bargen. The trio of other placers were Ethan Hartzell, Nathan Clem and Colton Stark. Also competing at the meet for BJHS were Cornell Brown, Dominic Capra and Skyler Craig.
"We had seven champions and I think two of them were first-year wrestlers," Harris said. "This group has been great. Our returning guys that have been doing this sport for five to seven years are winning because of their experience. But some of these new guys are having a lot of success early on. This has been a really fun group to coach."
On Monday, the Bulldogs traveled to Gardner to compete against Wheatridge and Pioneer Ridge middle schools. The Bulldogs left with a 30-10 record and they recorded 20 falls at the meet. Eight Bulldogs even went undefeated.
At the meet, Beeman set the school record for number of falls in a season. He now has 11 for the year, breaking the previous record by one. Clark also tied the BJHS record for wins. He is 14-0 on the season heading into Saturday.
"This year, we won 30 and lost 10 matches," Harris said. "I think we were probably the winningest team there last night. We've done well at every meet we've had so far. It's been great."
The BJHS season will end Saturday, but the Baldwin High School season will start Monday. Harris, who coaches both teams, hopes the fourth-year BJHS program will benefit the BHS team.
"In the past few years, the high school senior classes that have gone through had many kids that didn't start until ninth grade," Harris said. "Hopefully with some kids now having some junior high experience, too, it's really going to help our high school program."