BHS

season ends with 24-14 defeat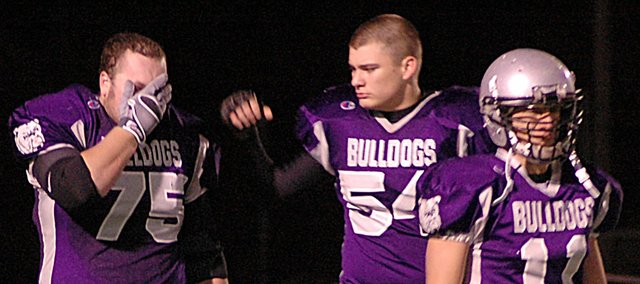 A second-half rally by the Baldwin High School football team nearly kept its season alive Saturday night at Liston Stadium.
Baldwin rallied from a 24-point deficit to cut the lead to 10 points as the fourth quarter started. However, that's as close at BHS would come to beating the Class 4A powerhouse Holton Wildcats.
In the end, the Bulldogs' season came to a halt in the regional round of the 4A state playoffs. Holton (10-1) defeated the Bulldogs (8-3) 24-14.
"You've got to feel for our whole team, especially our seniors," coach Mike Berg said. "They played lights out in the second half, but in the playoffs you can't give a team a 24-point head start.
"I'm proud of the way we came back and played tough," he said. "We told them at halftime, 'we want you to play tough.' It all goes back to blocking and tackling. They did both of those better than we did in the first half."
It was a loss the BHS seniors hoped to avoid. They wanted their final season as Bulldogs to continue further into the playoffs.
"We kind of realized that it could be our last game as we went into halftime," senior Logan Schiller said. "In the second half, we came out with a lot of fire and heart. We wanted to win it, but just came up short."
Baldwin went into halftime Saturday trailing 24-0 after allowing the Wildcats to score a touchdown with 23 seconds remaining in the half. Despite the large deficit, Berg emphasized to his team that the game wasn't over and neither was its season.
"I said, 'Guys I'm not going to scream at you, but don't make this your last game. If you do lose, I want you to lose with some pride. I want you to do what you were coached to do, like tackling and being in the right spot.' Then we came out and played a great second half."
His words must have inspired the Bulldogs, as they began the second half in the same manner they started several games. They drove 93 yards in nearly six minutes and it only took 12 plays. Senior Sam Beecher scored his usual touchdown for BHS, but it would be his final one as a Bulldog.
"We came out with a lot of intensity," Schiller said. "Our defense really stepped up, too. We had a chance, but just couldn't execute at the very end."
The Bulldogs' defense also improved. They forced Holton into a three-and-out and to punt for the second time all game. Baldwin responded with another touchdown.
Senior Andy Thurlow took a handoff and ran around the left side of the offense for a 50-yard score. Just like that, the Bulldogs scored 14 points in the first eight minutes of the third quarter and they only trailed by 10.
"I think we had them on their heels," Berg said. "We were able to run some reverses, some power runs and we threw some passes. Our offense was really working well. If we were able to do that in the first half, it would have been a lot closer game."
Baldwin's defense once again held its ground on Holton's next possession. The Wildcats drove deep into BHS territory, but was stopped on a fourth-down-and-one attempt on the BHS 9-yard line.
"In the second half, we were tackling well," Berg said. "We had guys in every phase of the option. We were tackling everyone in the second half."
The Bulldogs took possession and proceeded to march down the field again with ease. Sophomore Josh Hoffman completed a 16-yard pass to Beecher on a fourth down to keep the drive alive.
The BHS drive was halted on a third-down-and-six on the Wildcats' 9-yard line because of a holding penalty. On the next play, Schiller attempted a 38-yard field goal but it fell short. BHS still trailed by 10 points with 3:48 remaining since its drive consumed eight minutes of the clock.
"The clock just ran out on us," Berg said. "Every time they got the ball, even though our defense stopped them, they still ran off four or five minutes. That's what is good about the offense."
Baldwin had one more offensive possession, but it failed to move the ball on four incomplete passes. Holton then ran out the clock with four running plays.
"This time of the year, it has to do with turnovers, penalties and assignments," Berg said. "We had all three go against us and that's what hurt us."
Baldwin committed the only turnover of the game in the first half. Following a Wildcat touchdown, the Bulldogs fumbled the ensuing kickoff. Holton capitalized by scoring its second touchdown of the game.
"We did not start the game with that playoff intensity that we needed," Berg said. "Holton jumped on us quick and you have to commend their team, because they were ready to play and we weren't."
Baldwin was only able to gain two first downs in the first half. One of those was because of a 15-yard personal foul penalty on Holton.
"We weren't able to sustain any drives, because we never had the ball," Berg said. "We got a first down on our first series, but then dropped a pass so we had to punt. Then we fumbled the kickoff after they scored. Then, before you knew it, the half was over. We got to touch the ball for 13 plays, while they ran 47 plays."
Schiller said the loss was tough, but his final season was a successful one.
"It was a really fun season and we all enjoyed it a lot," Schiller said. "It was fun and we have no regrets, even though we lost."
Holton moves on to play Paola Friday night. The two other teams on the east side of the 4A bracket are Louisburg and Perry-Lecompton. BHS defeated every team remaining but Holton on its side of the bracket.
Berg said Holton has a chance to advance further into the playoffs because of its style of football.
"I think they are a very tough team that doesn't have a lot of team speed, but they don't make mistakes," Berg said. "I think their hardest test will come this week against Paola. They are one of the most powerful teams out there."