Ground game leads Bulldogs past Stags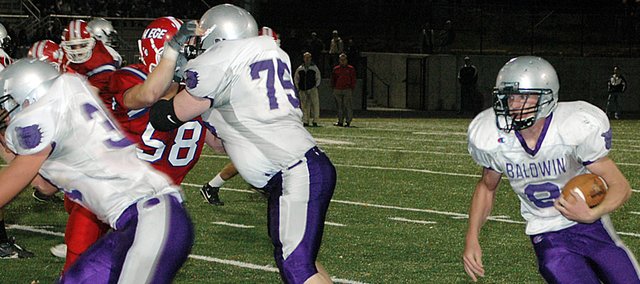 ROELAND PARK — Baldwin High School's football team demonstrated its ability to have a short memory when it comes to losses here Tuesday night.
For the second time this season, the Bulldogs (8-2) bounced back from a defeat in just a few days. This time, the Bulldogs' victory kept their season alive.
There was no vote needed for this contest on election night. BHS defeated Bishop Miege 33-18 to claim its bi-district championship.
"We played four complete quarters tonight," coach Mike Berg said. "We've been telling our kids that if we play four complete quarters, we are going to be a tough team to beat. This is the first time I can think of us playing four solid quarters and we were a tough team to beat tonight. I am so proud of them for executing our game plan. I think they really want to play at home again."
Baldwin will return home for its next contest. BHS will host Holton (9-1) on Saturday. The game is tentatively set for 7 p.m. at Liston Stadium.
"It will be against a very tough opponent," Berg said of the Bulldogs' regional playoff game. "We love playing at Liston."
Baldwin's other loss came on a Monday night at Gardner-Edgerton. Four days after being whipped, the Bulldogs came out and thumped Spring Hill at home.
"I think it all started with that short week after Gardner," Berg said. "After losing that game, we had to come back and play that next Friday. We are used to short weeks."
Baldwin came into Tuesday's game with only four days of rest after suffering its second loss of the season. It was Baldwin's rival, Eudora, that ran all over the Bulldogs last Thursday. However, that 35-28 loss kept them in the playoffs by a single point.
BHS used its second life to prove Thursday night's team wasn't the same one that took the field wearing BHS uniforms all season.
"This is one of the best feelings in the world," senior Sam Beecher said. "Our defense had so many points put on us last week, but still came out here and played like tonight. It really shows what kind of character we have. This is just a really great feeling tonight."
Beecher even said the Bulldogs' final touchdown last week propelled them into their game against Bishop Miege.
"We carried a little momentum into this game, even though we lost, with our late touchdown," he said. "We really tried to carry it over to tonight. We have a lot of momentum and confidence right now."
Beecher should be the one with confidence. He carried the ball 39 times for 227 yards on Tuesday. He also scored all five touchdowns for Baldwin. After the victory, he said his teammates gave him space to run all over the Stags' defense.
"Again, I'm not just giving credit to the linemen because they are my boys, but they really did a great job on all of my touchdowns," Beecher said. "I pretty much went untouched on those runs. Coach just knew where the holes were going to be, so he kept calling those plays and it worked."
Although Beecher carried most of the load, Berg was pleased with the effort of his two sophomore running backs, Landon Ausherman and Josh Hoffman.
"He's just a tough kid that runs hard," Berg said. "Our blocking up front was great. All of our backs blocked and ran well. Ausherman and Hoffman got the yards we needed when we called their numbers. It was all three of the backs tonight."
Baldwin opened the game with a running attack that had no opposing answer. BHS ran the ball 14 times down the Stags' throat. Beecher took 13 of those attempts, including the final 2-yard touchdown run.
"That's what we wanted to do," Berg said. "We wanted to play some smash-mouth football like Eudora did to us Thursday. "We had a good, nine-minute drive and I'm so proud of the way our kids executed on that drive."
After an interception by senior Logan Schiller, Beecher handed the ball back to the Stags on a fumble. They scored a few plays later. However, Beecher scored his second touchdown early in the second quarter to give BHS the lead once again. Another exchange of scores happened before halftime as Baldwin led 21-12 at the break.
"I'm not sure if anybody really noticed, but we had a lot of trouble with our footing on the Eudora field," Beecher said. "Tonight on the turf, we were able to make good cuts. They didn't really have a home-field advantage since we are used to playing on turf also."
Bishop Miege wasted no time scoring in the second half. NCAA Division I prospect, junior Justin McCay, ran the second half kickoff back 93 yards for a touchdown.
Then Baldwin took advantage of two bad punts by the Stags. BHS once again ran up the gut and scored on a sweep play by Beecher. Ausherman threw a lead block to free up his senior tailback.
"Landon blocked out No. 19 on that play," Beecher said. "Coach had confidence in him to take that guy one-on-one and he took care of it."
After scoring their final touchdown early in the fourth quarter, the Bulldogs' defense shut the Stags down. They stopped them on two fourth-down attempts and allowed the BHS offense to run out the clock as it held the ball for nine of the final 10 minutes.
"Our defense played well," Berg said. "They had a lot of weapons on offense, but our kids were in the right spot knocking balls down and stopping the run. It was just a total defensive effort tonight."