BHS

boys haul home 13th straight state trophy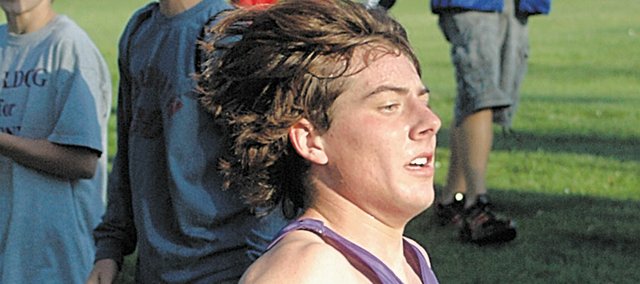 WAMEGO — For the first time in 12 years, the Baldwin High School boys' cross country team didn't leave here with gold or silver.
In hindsight, BHS did earn its 13th consecutive Class 4A state trophy.
The Bulldogs finished third as a team Saturday at the annual state meet. They scored 105 points to place third. Mulvane won its second straight title as it scored 43, while host Wamego finished runner-up with 63 points.
"We went in and did what we needed to do to bring home some hardware," coach Mike Spielman said. "Going in, we knew on paper that we were about third. Sure, we hoped to move up, but Mulvane and Wamego ran great races."
Senior Connor Wright and sophomore Tony Weiss were happy to finish third, but were aiming for higher.
"It's always good to bring home a trophy," Wright said. "No matter what, you always think you can do a little bit better if you're not on top. There's always next year for most of these guys."
With Mulvane returning its top six runners from a year ago, Weiss was hoping the Bulldogs would finish second for the third straight season.
"I was pretty happy with it, I guess," he said. "I had hoped we would get second, but I was happy with third. Mulvane is really good and Wamego ran really well."
Weiss and Wright were the leaders all season for Baldwin. They continued leading BHS on Saturday. They both finished in the top 10 to become all-state runners.
"Tony and Connor had unbelievable races," Spielman said. "They just ran perfect races and did what they had to do to max out their places."
Weiss nearly came away as state champion during his sophomore campaign. However, he had to settle for a runner-up finish in a time of 16:37.63, just six seconds behind the winner, Thomas O'Connell from Andover.
The race nearly played out just as Weiss wrote on his script for Spielman. Only difference was Weiss saw himself one place higher.
"It was almost exactly like I wrote it out," Weiss said. "At the mile I was in the sixth at 5:10 and that's what I predicted. I was exactly where I said I would be at the two mile, except a couple places back. It just played out almost the exact same.
"I just kept moving up the whole race and trying to catch him," he said. "I saw him with about 200 meters left. I think if it was a little longer of a race, I could have caught him. Like Connor said, you always think you can do better if you had to redo it."
If the weather hadn't been nearly perfect, Spielman believes Weiss might have caught O'Connell.
"He had the best race strategy for that kid," Spielman said. "He always goes out hard, and on that course, you normally can't do that. Tony was closing, but I think it was too nice of a day where the elements didn't take an effect on him. If it was a little warmer or windier, I think O'Connell might have paid for going out so hard. Tony still had to run his tail off to get second, so it's a great accomplishment to beat those other guys."
Just a few places behind Weiss was his senior teammate. Wright earned his highest finish at the state meet by placing seventh. He also ran the best time of his career, 16:4286.
"I had a pretty good PR at state," Wright said. "That was a pretty optimal time to run my best race. It was the perfect day to run. The temperature, wind, everything was just right. It turned out amazing."
After the race Spielman said he could tell Wright had a goal on his mind.
"He just looked really good when he was running," Spielman said. "He was so smooth and relaxed. You could tell he had a purpose and a goal to accomplish. He wanted to be in the top five and he was close."
Freshman Tosh Mihesuah was the next Bulldog to finish. Mihesuah placed 37th in his first race at the Wamego course, running 17:45.73. Fellow freshman Brian Wright followed him in 47th place, with a time of 18:04.93.
Sophomore Carson Barnes was the Bulldogs' fifth runner. Barnes finished 49th in a time of 18:05.89.
"Brian Wright didn't have a very good race, because his foot was still sore," Spielman said. "Carson felt a little better this week, but not quite where he would like to be. Those guys could have run up at the front and we still couldn't have caught those two teams. Mulvane and Wamego ran really well."
Rounding out the roster was sophomore Joey LaBuda (53rd, 18:13.32) and senior Brad Canterbury (59th, 18:22.06).
"We had some inexperience out there with freshmen and new guys," Spielman said. "We had three guys running that course and meet for the first time. I think it bodes well for us in the years to come. We have some younger kids with abilities that we can start to work on in the future."
Baldwin was one of three Frontier League schools to place high at the meet. Paola finished in fourth place, with De Soto behind them in fifth.
After taking the weekend to look back on the race, Weiss said it was a nice finale.
"It was definitely a good race to end on," Weiss said. "It was a nice ending to the season."