Voters turning out in droves around Baldwin City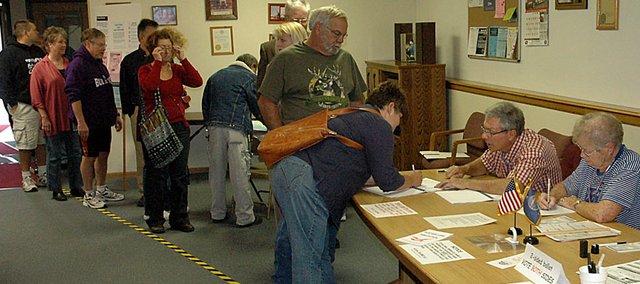 Polling places in the Baldwin City area were busy early this morning, with lines reported at most locations. Election officials were reporting big numbers already.
At Vinland, there was a 15-minute wait standing in line to vote. As of about 7:30 a.m., 51 people had voted. Those in line hadn't experienced that before.
"No. Never," said John Thomas. "Maybe there would be two or three ahead of you, but nothing like this."
As of about 8 a.m., 77 people had voted at the Baldwin City Fire Station, which also had a line. At the American Legion Hall, 115 voters had cast ballots after waiting in a line that wrapped around City Hall. That's an eighth of the voters registered at the Legion Hall, an election official said.
By noon, the fire station had passed the Legion Hall in voting, which rarely happens. There had been 348 votes cast at the fire station, to 340 at the Legion Hall.
"It's going to be an excellent turnout," said Danny McMillen, the head election official at the fire station. "Thank goodness for advance voting or we would have lines down the street. Advance voting saved us."
Countywide, about 22 percent of the registered voters advance voted. For the first time ever it was offered in Baldwin City the last two Saturdays and turnout was large. But, the fire station had also encountered a problem. There had been 370 ballots issued, but only 348 were counted. The other ballots are provisional, which could be a problem everywhere with the increased number of voters.
The Signal will continue to update this story throughout the day.