Freshman Howard medals at state meet
Photo Gallery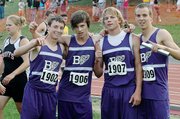 State track and field 2008
Baldwin High School competed at the 2008 state track and field meet in Wichita May 23-24. BHS came home with four gold medals and two school records.
Wichita — While the Baldwin High School girls' distance runners scored the majority of points here over the weekend, there was one Bulldog who medaled at her first state track and field meet.
BHS freshman Allison Howard was the only point scorer that wasn't a distance runner. Howard threw 120 feet, 10 inches in the discus to earn herself a sixth-place medal in Class 4A.
"I was happy with my throw because it was only my second time over 120 feet," Howard said. "It was great going in 12th and coming out with sixth."
BHS girls' coach Ted Zuzzio was proud of Howard for performing at a high level on the biggest stage she had been on this season.
"Allison Howard was our x-factor and she did a wonderful job," Zuzzio said. "Scoring in the discus as a freshman is special. She is only a couple of feet from our school record and she will have it next year."
The BHS freshman entered the meet with 12th best regional throw. She threw 116-4 on the final throw of her flight. That mark was 3 inches further than Tonganoxie's Roni Grizzle, which earned Howard a spot in the finals.
"I enjoyed the excitement of making finals and doing well," Howard said. "On my last throw before finals I was sitting second in my flight and I knew that if I was to have any chance of making finals I had to win my heat. I was right. I went into finals sitting eighth."
Her first toss in the finals was the 120-10 throw that placed her sixth. She beat seventh place by six inches and eighth by two feet.
"It was exciting," Howard said. "I barely made finals and my first throw in finals moved me up to sixth and into a medal position. It is great knowing that I did so well this year and that next year I have the possibility to do even better since three top three throwers graduated."
Howard was the only freshman in the contest. Her two team points helped Baldwin earn a fifth-place team finish Saturday. Baldwin scored 40 points, just behind Tonganoxie (42) and Buhler (43.5), but ahead of Andover Central (37).
A year ago Baldwin scored 35 points and placed third to take home a trophy. This year, the battle was tougher and Zuzzio was disappointed to head home without hardware.
"We scored more points than we did last year, so it's a little disappointing that we're not bringing home a trophy of some sort," Zuzzio said. "All of the good teams were sort of bunched together. The points were sort of spread throughout five teams.
"Overall, we were up on the medal stand many times and we have multiple state champions," he said. "We've got a lot to be proud of. They represented Baldwin well."
Baldwin had three other competitors that qualified for state, but were unable to score or make finals. Senior Courtney Harris did make finals in the 4A javelin, which had three of the best four throwers in the nation competing Saturday. Harris threw 123-4 to finish eighth in the loaded event.
"She would have placed in every other classification, except for ours and 5A," Zuzzio said. "She got to the final and that was special."
Baldwin also had two freshmen hurdlers qualify for state. Lyndsey Lober competed in the 100-meter hurdles, while Ramie Burkhart qualified in the 300-meter hurdles.
"Our two freshman hurdlers were sensational all year and came up against, once again, the toughest field in all classes, in the hurdles," Zuzzio said. "I am very proud of those two young ladies."