Fantastic finale
Heather Garcia ends career with two golds, one school record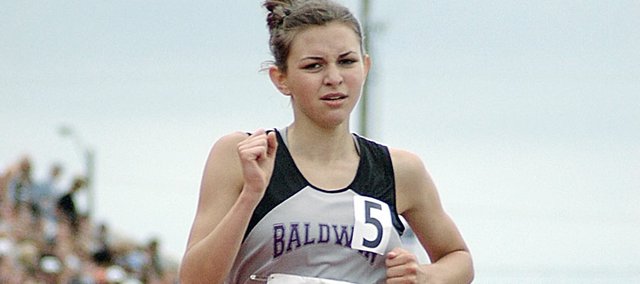 Photo Gallery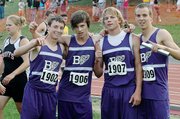 State track and field 2008
Baldwin High School competed at the 2008 state track and field meet in Wichita May 23-24. BHS came home with four gold medals and two school records.
Wichita — Kansas High School Class 4A distance running won't be the same next year and many girls will be overjoyed.
For the first time in four years, there will be a new winner in the two long distances races at the state meet in 2009. Fortunately, for the other 4A competitors, Heather Garcia had to graduate this spring.
During her four years at Baldwin High School, she won three gold medals in the 1,600- and 3,200-meter runs, three silver medals in the 800-meter run and a silver in the 1,600 and 3,200.
"When the gun goes off, she competes," BHS girls' coach Ted Zuzzio said. "She's had a remarkable career."
Garcia has left Baldwin as the most decorated female runner in its history. Before she finished her career, she had one final meet to leave her footprint and she left one big one for all other runners to follow.
Her final state meet produced similar results to her two previous, as far as the medals go, but something was different this year. Garcia said she felt more relaxed and seemed to enjoy her final high school races more than in past years.
After winning the 3,200 on Friday morning in convincing fashion, Garcia was asked if winning the race for the third straight year has lost any luster. She was quick to reply, dismissing that thought.
"No, not at all," Garcia said. "This means a lot to me, especially since it's my senior year. I want to go out with a big meet and this is where it starts."
Garcia nearly finished her career with her best state meet ever. She came within 0.7 seconds of winning the elusive trio of gold medals at the state meet. However, she would have to settle for her third consecutive 1,600 win and runner-up in the 800.
She did earn a third gold Saturday, when she anchored the 3,200-meter relay to victory.
"The only race Heather Garcia lost, she ran the second fastest time for all classes," Zuzzio said. "She competed. She set two school records. She got to end up on top in the mile and two mile and anchored the two-mile relay to a win."
At 7:45 a.m. Friday, Garcia took to the track for the 3,200. She took the lead on the first lap and never looked back. Wamego's Breanna Briggs hung close for most of the race, but Garcia distanced herself during the final laps of the race.
"It was good, but it was really windy," she said. "I was running by myself for the whole race, which is harder, but that's OK."
Garcia ran 11:09.45, which was 23 seconds faster than the second place Briggs. Before the race started, Garcia had a goal of breaking the 4A record of 10:47.02. She ran 10:49 a year ago, but windy conditions made the record unbreakable Friday. However, she did run the second fastest time of any girls in 4A, 5A or 6A on Friday morning.
"I didn't get the record, but that's OK," Garcia said. "I was trying to run faster and if it happened, then that's cool. There's nothing I can do about it now."
Her next race was the 3,200 relay on Saturday morning. After a couple of hours of rest, Garcia stepped on the track to defend her 1,600 title. Once again, she ran away with the victory and ran one of her best times in the process.
She ran 5:05.97, beating El Dorado's Laura Nightengale by 8 seconds.
"That one felt good," Garcia said. "I was really, really nervous coming into this race, more so than any of the others so far. She (Nightengale) beat me at Wichita, so there was a lot at stake there.
"I was feeling good," she said. "I didn't think I was going that fast, so, yeah, I'll take that. Time doesn't mean anything to me today."
After nearly two laps of running with the pack of girls, Garcia took the lead and ran her pace. Two laps later, she crossed the finish line with a slight smile beaming brightly across her face.
"We came into our first lap and I was feeling really good," Garcia said. "On the second lap, she was moving really slow and I thought to myself, 'I am ready for this.' I took it to her hard after that."
Three golds were down and one more was ready to be won. That was the one that eluded Garcia her previous three years.
"I was feeling really good and ready to run," Garcia said. "I gave it all I had."
Once again, the race came down to her and Nightengale. The two standouts separated from the pack down the home stretch of the first lap. Garcia made a quick surge at the finish line in attempt to pass her opponent.
"I made a surge on her after the first lap," Garcia said. "Coach (Mike) Spielman said start going right when the ball rang. Once I heard the bell, I took off."
Garcia's surge was answered with a spurt from Nightengale, followed by a forearm into Garcia's arm and side. The incident knocked Garcia out into lane two and shook her up for a second.
"We bumped and I backed off," Garcia said. "We were really close and she threw it hard," Garcia said. "I stepped back and just threw my arms up so that everybody would see that I didn't touch her. But I guess, whatever. There's nothing I can do about it.
"Then I started going again and she went hard, too," she said. "I let her slip away a little bit, but then I said to myself 'it's my last 800 ever, so take it.' I tried maybe a little too late, but that's OK."
As they rounded the final turn, Garcia caught Nightengale and the duo ran side by side for most of the final stretch. Nightengale took a slight lead and won in a time of 2:14.58. Garcia ran 2:15.29, which was a personal-best and school-record time.
A little while after the race, Garcia collected herself and tried to make the best of a slightly disappointing result in her final race.
"It was OK," Garcia said. "If I hadn't gotten second, I am still excited that I PR'd. I gave it everything I had. I didn't hold back at all. I've never finished that close to her, so that's a plus, too. Getting bumped made me mad, so I ran even harder. That's my worst race and I know it is. It's really good to know I can PR in that, so I'm happy."
If the 800 were to be rerun Saturday, Nightengale might have been in trouble. Garcia wanted a dual to settle the final race.
"I've got energy," she said after the race. "I can go run again. Yeah, maybe one more lap or another mile."