District strives to stay ahead
Technology Timetable part
III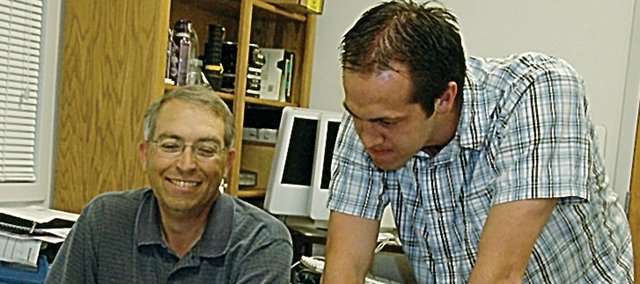 With the rapid changes in the technology industry and highly-competitive surrounding districts, the Baldwin School District is working hard to stay on the cutting edge.
Within the last decade, computers have become an essential learning tool at every level of school. Now it's not just computers that help students and teachers excel in the classroom; they use many advancements in technology to teach the 21st Century way.
Casey Morford, the school district's Webmaster and 2000 graduate of Baldwin High School, has watched the technology age come along and he has enjoyed every minute of it.
"It's kind of interesting from our generation's point of view, because we were like right in the middle of all of the different technology changes," Morford said. "There were computers, but they were developing some of the newer technologies at the time. Then while I was in college, there was this explosion in computer usage. Then as processors got a lot faster, people were able to do a lot more. Things have changed here quite a bit, too."
Now part of the district staff, Morford is working to improve and keep the school district up to date. He is part of the crew that has formulated a technology plan that was approved by the Baldwin School Board.
This year was a good one for Baldwin as it improved its infrastructure, updated computer labs, bought many classroom projectors and even bought laptops for many teachers.
"We've just had an amazing year where we've been able to add a bunch of those," said Steve Hemphill, technology director. "Some schools are putting Smartboards in every room, but I don't see that as being the real goal for us. It appears to maybe be a possibility at the lower elementary level, where the kids can use it."
However, it's the future that many parents and patrons are concerned about. Hemphill, Morford and others have a plan for the next couple of years.
"There is a rotation, but it's not school by school," Hemphill said. "I think we've seen that teachers are enjoying having laptops. We still have a couple of schools that don't have laptops for the teachers yet. The high school, Marion Springs and Vinland don't have them yet."
The primary obstacle for Baldwin, like many school districts, is finding the funding for the improvements. Supt. Paul Dorathy said the district is trying to set aside money for technology upgrades, but budget limitations make it difficult.
"Most of the money being used for that is Capital Outlay money," Dorathy said. "We do try to buy software out of the General Fund, because we can't buy it out of the Capital Outlay fund. We are trying to budget money in Capital Outlay for technology purchases."
Although there is money in the Capital Outlay fund for improvements for next year, Hemphill isn't confident much of that will go toward purchases of new equipment.
"I don't know for sure about this next year, but it doesn't look like we will be able to update very many computers," Hemphill said. "I hope we don't get too far behind from that one year. We have a couple of leases with computers that are kind of stacked on top of each other, so we have an amount that we need to pay off before we add more to it."
Morford agreed, saying Cynde Frick, director of financial operations for the district, wants the leases to be more synchronized.
"Cyndi was wanting to get on a more regular lease cycle," he said. "We have some leases of varying lengths of time, like five years or three years. It would be better if all of them were the same length of time, that way when we retire a lease, we can add a new one. It makes it a bit easier."
Of course, the future for the district doesn't just include new computers and equipment. It also deals with the growing online community and keeping its Web site up-to-date with information.
Morford has been the main person in charge of the Web site, which was one of Dorathy's goals when he started less than two years ago. There are plans to make the site better and easier to use.
"We are always trying to improve the Web site," Morford said. "It's been one of my goals to make it more user-friendly and look a bit nicer. Mr. Dorathy has been key in the getting administrators to give the information to post on the Web site. We've got a lot of feedback from the community about it, but we're working on going further with that.
"We have a high school student that is interested in taking an online editor's approach as part of journalism at the high school," he said. "We will be working with them a lot closer to help us keep the news portion more up to date. I have to get my information from a lot of different people, so I am kind of at the mercy of who can get me the information. It's much like a newspaper where we have people contribute, but then there is an editor who puts a lot of it together."