BHS

girls enjoy golden relay
Photo Gallery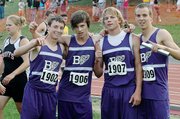 State track and field 2008
Baldwin High School competed at the 2008 state track and field meet in Wichita May 23-24. BHS came home with four gold medals and two school records.
Wichita — Heather Garcia can be a team player, too.
The Baldwin High School senior experienced an incredible amount of individual success during her four years at BHS. However, the highlight of her final state track and field meet was helping a trio of her teammates win their first track gold medal at the state level.
It was here on Saturday morning where she displayed the love for her teammates. Garcia anchored the BHS girls' 3,200-meter relay to a come-from-behind victory over Wamego to win the Class 4A championship.
"The 4x800 has been the highlight of everything," Garcia said. "I never ran that at state and I love the atmosphere of being on a relay. I did it for them, not necessarily for me, because they should be up there, too. It's really cool for them."
Baldwin's team of junior Calleigh Durr, junior Corinna Papps, sophomore Connor Twombly and Garcia ran 9:41.09 to win the race. The Bulldogs defeated second-place Wamego by three seconds and third-place Tonganoxie by 16 seconds. No other team finished with a time better than 10:10.
"We knew we could do it," Papps said. "I was never nervous the entire time."
The Bulldogs did manage to crush the previous school record during the race. The old record of 9:53 was just set a year ago by Durr, Papps, Twombly and Kelsey Verhaeghe, 2007 BHS graduate.
"They beat the school records by 12 seconds," BHS girls' track coach Ted Zuzzio said. "They are a hard working group. It's pretty special for them to win that race. They worked as a unit and Heather put the exclamation point on it."
Although Garcia did finish the relay with a performance that dazzled the crowd, she was the first one after the race crediting her teammates for great performances.
"We all contributed what we were supposed to do," Garcia said.
Durr led off Baldwin with her best split of the season, running a 2:25. She finished her two laps in fifth place in a very fast first leg of the relay.
"They went a little fast early and I was worried a bit," Durr said. "I caught up with them on the final lap and got us into a good spot."
Twombly was next on the track. She ran a 2:28 split and gave the baton to Papps with the Bulldogs fighting for the second and third spots.
"Mine went really fast, too," Twombly said. "I just tried to catch up with Wamego and run hard."
Papps moved the Bulldogs up a spot by passing Eudora and running a 2:30 split in the relay.
"I felt good coming into it," Papps said. "I passed the Eudora girl and I was like 'it's time to go.'"
With Wamego nearly 60 meters ahead, Garcia received the baton from Papps. She cruised the first lap and distanced herself slightly further from Wamego. In hindsight, it only made the finish more dramatic and impressive for the fans.
With 200 meters remaining in the race, Garcia began to reel in her opponent. As the two runners rounded the final turn, the victory was already in sight. Garcia sprinted past a tired Wamego runner en route to the winning the race and running a 2:18 split.
"I didn't want to take out too hard," Garcia said. "I wanted to save it all for my kick and that's what I did. I almost kicked too late."
Despite the large deficit, the other Bulldogs always believed Garcia would win the race.
"We knew she could do it," Durr said. "We never doubted her at all."
All four Bulldogs enjoyed their moment on the medal stand soon after the race. Smiles were shining and all four were beaming with confidence.
"I did it for these girls right here," Garcia said. "We did it so we could all get on that podium together."
Of course, this wasn't the only state title the Bulldogs won this school year. All four Bulldogs were a part of the BHS girls' cross country team that took state in October.
"Two state championships in one year is pretty good," Durr said.